The Philippines' controversial president Rodrigo Duterte, known by locals as "the Punisher", has publicly linked 150 senior officials to the country's drug trade and ordered them to hand themselves over or risked being "whacked". The newly elected leader's comments follow statements made in his home city of Davao, where he confirmed his 'shoot-to-kill' order on drug dealers would remain in place until he left office.
Duterte, who has made it his personal mission to rid the Philippines of its pervasive drug trade, also brushed off criticism of summary executions by police amid reports that as many as 800 people have been killed in a wave of narcotics-linked attacks since May.
The Associated Press reported that among the 150 names released by Duterte were judges, mayors, police and military personnel. Making his announcement at a military camp in Davao, he focused on members of the security services, accuses them of allowing the drug trade to flourish in the Philippines, and brought the nation to the cusp of becoming a narco-state.
"All military and police who are attached to these people, I'm giving you 24 hours to report to your mother unit or I will whack you. I'll dismiss you from the service," he said.
Duterte admitted the names given to him might not all be correct, but said he had a duty to the public to release the list and show how widespread the drug trade had become.
"There is no due process in my mouth," Duterte said. "You can't stop me and I'm not afraid even if you say that I can end up in jail."
He said some of those on the list included close personal acquaintances. They included eight judges, as well as five retired and current generals. The remainder were mostly town mayors and police officers. The list also included a retired general, Vicente Loot, previously named by Duterte, who has denied any wrongdoing.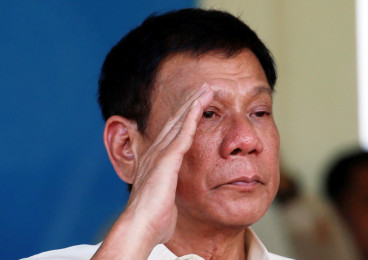 Amid unconfirmed local media reports that said hundreds of drug offenders have also been killed by suspected vigilantes, the United Nations has condemned the country's stance against crime and criminals. The UN anti-drugs office issued a statement on Wednesday (3 August), condemning the killings.
"The United Nations Office on Drugs and Crime remains greatly concerned by the reports of extrajudicial killing of suspected drug dealers and users in the Philippines," its executive director Yury Fedotov said in the statement