Philippines President Duterte's allies file criminal case against Senator Leila de Lima
The development is the latest against the senator since she led an inquiry into the alleged extrajudicial killings.
The lawmakers of Philippines have filed a criminal case against an outspoken critic of President Rodrigo Duterte on Tuesday, 13 December. Duterte's allies in Congress filed the criminal complaint against Senator Leila de Lima and alleged that she was against president's extrajudicial killings against drugs.
"Senator de Lima has shown disrespect to the House of Representatives. We cannot allow this incident to pass, how can we earn the respect of the people when a senator insults us by calling the inquiry a sham and a kangaroo court," Congressman Reynaldo Umali, head of the lower house's justice panel, said.
He added that the senator will face imprisonment of up to six months if found guilty.
According to reports, the development is the latest against De Lima since she led an inquiry into the killings.
However, De Lima, who was justice minister in a previous administration, has denied the allegations and denounced them as "madness" and "harassment" on her by the ruling government. She also urged Duterte to end the series of strange accusations and insults against her.
Recently, a self-confessed hitman Edgar Matobato filed criminal complaints on 9 December slamming Duterte for taking part in the killings. He accused the Filipino president of murder, kidnapping, torture, genocide, other crimes against humanity and breaching international humanitarian laws.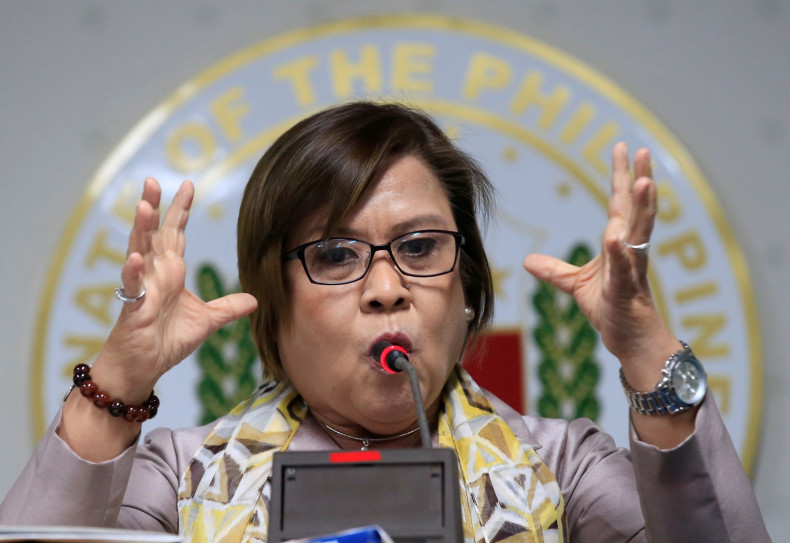 Duterte has received criticisms from around the world, including the United Nations, for his bizarre policies against drugs and drug dealers. His war on drugs, the key plank of his campaign for a May election, has claimed about 5,000 lives since 1 July.