Philippine President Rodrigo Duterte's highest profile critic has been arrested in what is seen as an attempt to silence dissent.
Senator Leila De Lima, 57, has been extremely outspoken about Duterte's so-called drug war, which has seen thousands of people killed in extrajudicial killings since he took power last summer.
She has repeatedly labelled her country's leader as a mass murderer and called for him to be impeached but on Friday (24 February) she found herself detained by officers on drug charges that could see her imprisoned for life.
De Lima had sought refuge in the Senate building in Manila, sleeping on her office floor the night before to avoid arrest, but later handed herself in to armed officers waiting outside.
"It is my honour to be imprisoned for the things I am fighting for. Please pray for me," De Lima told reporters before she entered the police van, reported AFP.
"As I have been saying all along, I am innocent. There is no truth to the charges I benefited from the drug trade, that I received money and that I coddled drug convicts.
"The truth will come out at the right time. They will not be able to silence me and stop me from fighting for the truth and justice and against the daily killings and repression by the Duterte regime."
Amnesty International said it considered De Lima's arrest as politically motivated and that it would regard her as a prisoner of conscience.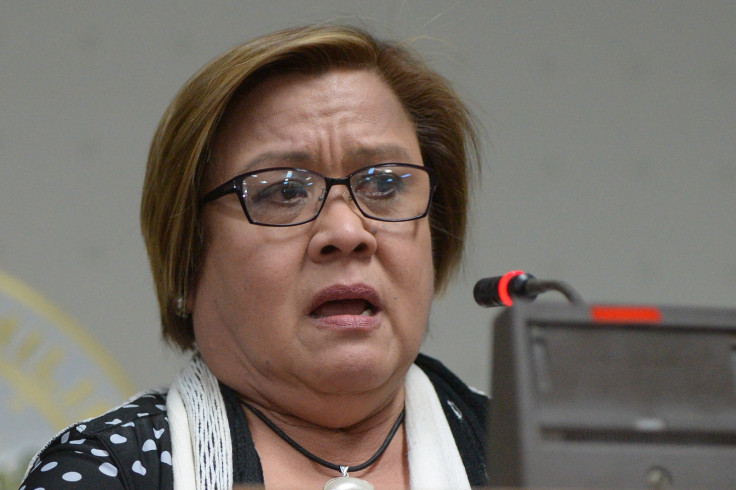 "The arrest of de Lima is a blatant attempt by the Philippine government to silence criticism of President Duterte and divert attention away from serious human rights violations in the 'war on drugs'," the group said in a statement.
Ronnie Dayan, De Lima's former driver and lover, was arrested on Thursday for similar drug-trafficking charges.