Senator De Lima calls for 'psychotic serial killer mass murderer' Duterte to be impeached
The Liberal Party senator presented the motion in a bid to dismiss her three charges of drug trading.
Philippines President Rodrigo Duterte was described as a "psychopathic, serial killer, mass murderer" by one of his most vocal critics, Senator Leila de Lima, who is fighting against three charges of drug trading.
In a press conference presenting her motion to dismiss the charges against her filed on 21 February, Liberal Party Senator De Lima asked government ministers, officials and lawyers to hold Duterte accountable for his actions.
She accused Duterte of "crimes against humanity", referring to the alleged killings by the so-called "Davao Death Squad" which was set up when Duterte was mayor of the city, and the way he handled the now-suspended "war on drugs" that left thousands of people dead. She said these can represent ground for impeachment are not covered by presidential immunity.
"You can save this country from the criminal president by declaring that due to his way of thinking, he is incapable of serving as president," she said.
Her statement follows the confession of a retired police officer who admitted on 20 February to having been a member of the Davao Death Squad. Arturo Lascanas told a news conference at the Senate in Manila he and other policemen had accepted money from the then-mayor as payment for carrying out assassinations.
De Lima called Duterte a "number-one criminal", likening him to the villain The Joker from the superhero Batman films. "Just like in the movies, President Duterte is Joker. A psychotic murderer, the leader of all the villains".
She turned to her countrymen to rally behind her. "Now is the time for us to band together and stand against a criminal dictator and tyrannical regime. Let us fight for our rights, justice, and democracy," she said.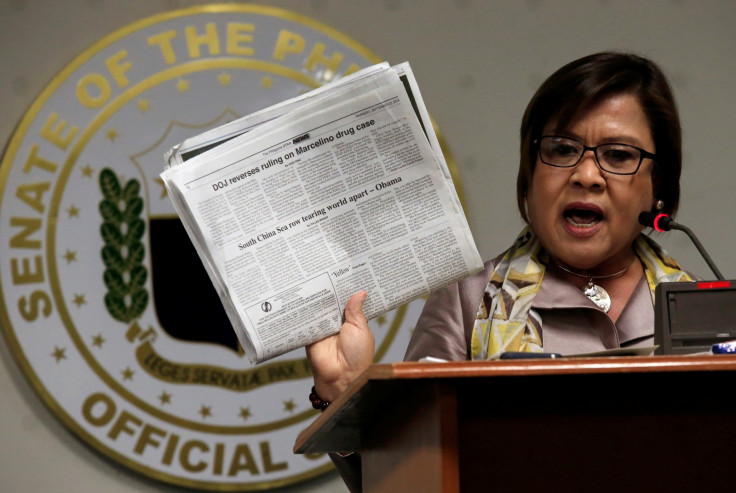 Presidential spokesman Ernesto Abella on Tuesday dismissed De Lima's statements as "colourful language," CNN Philippines reported.
De Lima is accused of tolerating and gaining from the outlawed narcotics trade at the New Bilibid Prison by the Volunteers Against Crime and Corruption (VACC), former officials of the National Bureau of Investigation (NBI) and the NBI itself during her time as Justice Minister. She denies the charges as "vindictive politics".
© Copyright IBTimes 2023. All rights reserved.