Phillips Idowu's agent says the triple jumper is disapointed and surprised by the British Olympic Association's decision to request an explanation over his mystery hip injury which saw him withdraw from a pre-Olympic training camp in Portugal and cast doubt over his involvement in the London 2012 Olympic Games.
The 33 year old has complained of the same injury which saw him withdraw from the London Grand Prix at Crystal Palace 10 days ago, and having competed just three times in 2012, the BOA have requested his medical records to assess his durability for the London Olympics.
But Idowu's agent Jonathan Marks has reacted angrily to the BOA going public with the request claiming it could damge his chances come the Games.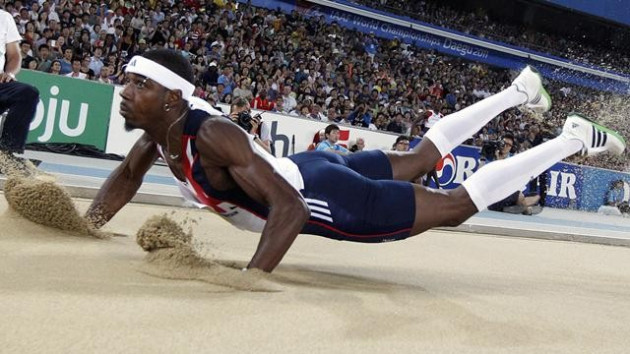 "Phillips got the letter yesterday," Marks said. "And we are more than happy to send the BOA the medical records. He's incredibly disappointed and surprised as to why the BOA have chosen to do this. I can't understand the benefit to the athlete.
"Our office has even had a call from a member of the BOA medical team who has also expressed surprise at the organisation's decision to go public with the request. Phillips is an athlete who's proven that if he gets to the start line then he is one of those athletes who can win a medal."
Idowu, one of Team GB's best medal hopes this summer, has competed just three times this year, and the BOA's intension to view his medical records have further swelled fears over his involvement this summer.
"Our chief medical officer Dr Ian McCurdie wrote to Phillips and his agent yesterday asking that he provide to Dr McCurdie the relevant medical records relating to his injury and the treatment he is currently receiving," BOA spokesman Darryl Seibel said.
"Those should be provided to our chief medical officer on a confidential basis. The basis for doing this is a clause in our team members' agreement that says athletes are required to provide details of any injury or illness that may impact on their performance during the Games."
After winning silver at the Beijing Olympics in 2008, Idowu is expected to duel with American Christian Taylor, who won the world title in Daegu last year.
He is yet to jump competitively since the meeting in Oregon on 2 June, where he picked up a separate foot problem, and coach Aston Moore says Idowu will stay in London to receive further treatment.
"In training recently Phillips has had an ongoing injury problem and we have not been able to go at things 100%," Moore said.
"At the weekend Phillips told me he would continue to seek treatment from a private physio in London and would not travel to prepare in Portugal, although he may join us here later.
"He is an experienced athlete who I have worked with for more than four years and we will assess the situation again in the coming days."
The former world champion has regularly played down any injury concerns, despite pulling out of the Olympic trials in Birmingham in June and the final domestic event of the calendar before the Games in London at Crystal Palace earlier this month.
Team GB chef de mission Andy Hunt said: "The situation is he hasn't gone to the preparation camp in Portugal.
"Our chief medical officer has written to him and after we have heard back we can make a decision. Let's understand the nature of the injury first. There's no decision to be taken yet."