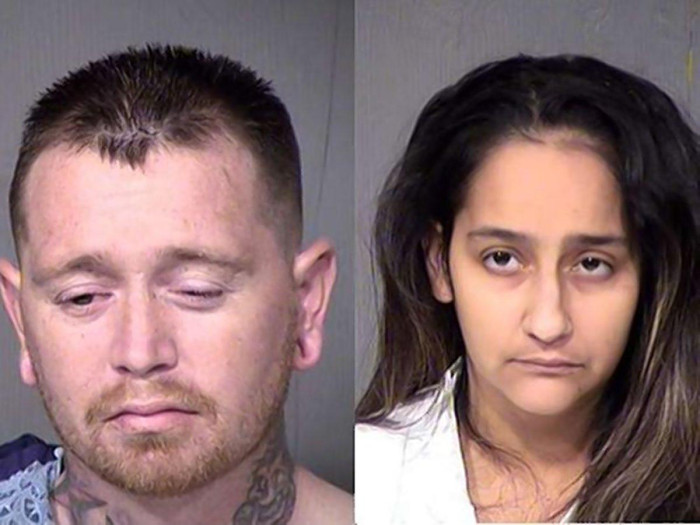 A couple in Phoenix, Arizona who claimed their two-year-old son had shot his nine-year-old brother in a domestic accident have been charged with murder after police said they had doubts about the story. Kansas and Wendy Lavarnia said the toddler picked up a gun from a bed and shot his brother in the head when Wendy, 28, went to look for a holster and Kansas was out.
The nine-year-old, now named as Landen Lavarnia, was critically injured and later died. Originally the couple claimed Kansas was out and came home to be given the news by police, but they now believe he was present and was himself shot in the arm.
The couple then allegedly cleared up blood from the bedroom, bathroom, hall, kitchen and sinks. Convicted felon Kansas, 31, then left home, and a few more hours passed before they dialled 911.
"The account given by Landen's mother was not consistent with the physical evidence found at the scene," said Phoenix Police sergeant Vince Lewis, reports Fox News.
Suspicions were raised by the fact that Kansas turned up with his arm in a crude bandage. Blood was also found in the trunk of his car. Police refused to speculate on whether Landen could have lived if treated sooner.
"We have a 9-year-old critically wounded, shot in the head, in dire need of life-saving efforts and care, which was delayed and not provided to this young man," said Lewis said. "It definitely shocks your conscience."
Neighbours said the children seemed maltreated. "Their kids were always running in the front with their diapers on," said Marie Mosley, according to the Mail. "They always yelled and cussed at them, which I didn't think was right, to cuss at little babies like that."
Both parents have now been charged with first-degree murder. Their three surviving children are in care.