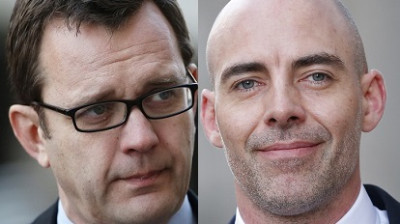 A former News of the World reporter lied to police after he was caught phone hacking because he was "toeing the company line", a court has heard.
Dan Evans, who pleaded guilty in September to phone hacking while working at the NotW and Sunday Mirror, told an Old Bailey jury he had lied about attempting to hack designer Kelly Hoppen's phone messages because he was caught up in an "enormous conspiracy" while working at the News International-owned News of the World.
He admitted to lying when he was questioned in the witness stand at the ongoing phone hacking trial of Rebekah Brooks, Andy Coulson and five others.
When he was arrested in August 2011, he purposely used a false "sticky keys" defence – that his phone had accidently hacked Hoppen's because of damaged buttons – during his first witness statement which was drafted by News International.
Evans said he then repeated that lie in a second statement he prepared with his own lawyers.
Under cross-examination from Timothy Langdale QC, representing former NotW editor Andy Coulson, Evans was accused of deciding to "deny the truth at a very early stage".
"You advanced the suggestion in your sworn witness statement that it was due to sticky keys that you dialled Miss Hoppen's mobile on your mobile. It was untrue," said Langdale.
Evans replied: "It was a document drafted by NotW lawyers, my employers at the time. What you are saying is correct, but there was an enormous conspiracy which I have been caught up with. I was toeing the party line, the company line."
Evans described how the sticky keys defence had been "seized on" by the paper's lawyers and that he did not want to "disabuse" the situation by the time it had made it into his draft statement.
Previously, Evans described how Coulson was aware of phone hacking at the paper and even shouted "brilliant" after he heard an intimate voicemail left on Daniel Craig's phone from actress Sienna Miller.
Evans then changed his story, saying that may not have been the exact word Coulson used but Evans quoted it to give an idea of how "animated" Coulson was when he heard the message.
"It is truthful evidence," he said. "The general context of the exact word 'brilliant' I was paraphrasing. I think the word came out of my mouth as I tried to explain the general sense of how happy he was."
While Evans has admitted lying about certain aspects of phone hacking in the past, he told the court all the evidence he had given in court was accurate.
"I appear to be open, honest and truthful," he said.
Coulson is one of seven people on trial for phone hacking charges, along with former Sun and NotW editor Brooks. All defendants deny the charges against them.
The trial continues.