Six million visitors, seven million litres of beer, half a million chickens and quite a lot of rain – the world's largest, rowdiest and most famous beer festival got off to a wet start in Munich. Although visitor numbers for the first weekend were down on last year, the heavy rain and stricter security did little to dampen the spirits of the thousands of beer lovers gathered in the 14 vast tents on Munich's Theresienwiese fairground.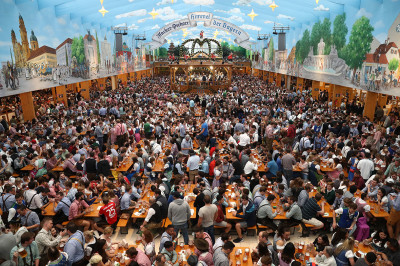 The festival has its origins in the wedding of Bavarian Crown Prince Ludwig and Princess Therese of Saxony-Hildburghausen in 1810. The public celebrations went on for five days and were so popular they have been repeated every October, but were later brought forward to start in September when the temperatures in Bavaria are usually warmer. This year's Oktoberfest runs for 17 days, from 17 September to 3 October.
Entry to the festival is free, but beer prices go up every year. You can't get a beer for under €10 (about £8.50, $11) this year – but that's for a litre (about 1.75 pints). Each of Munich's main Munich breweries has its own enormous tent with bands and hundreds of long beer tables seating up to 8,500 revellers.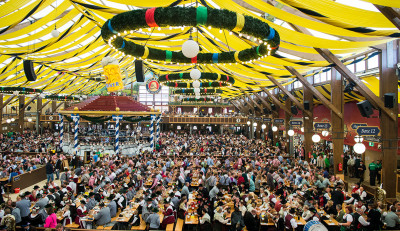 Responding to a series of attacks in recent months, authorities erected a metal fence, banned rucksacks and large bags, installed more surveillance cameras and made visitors go through security checks to enter the festival grounds. In July this year, a German teenager fatally shot nine people at a Munich shopping mall before killing himself. Two other attacks carried out by asylum seekers were claimed by the Islamic State (Isis) group; several people were wounded, but only the attackers were killed.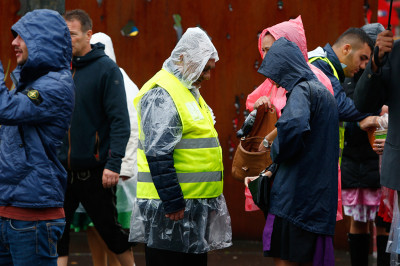 Oktoberfest is a major highlight of the year for the Bavarian city's residents, who often wear traditional lederhosen or dirndls, as well as for visitors who travel from across the globe for the festival.