A rare diamond known as the Pink Star has been sold in Hong Kong for more than $71m (£57m), setting a new world record for any gemstone at auction.
The oval-shaped 59.6 carat stone was bought after just five minutes' bidding at Sotheby's, easily beating its $60m estimate.
The buyer is Hong Kong conglomerate Chow Tai Fook Enterprises, Sotheby's said on Twitter, which has a chain of jewellery stores.
Sotheby's calls it: "One of the world's great natural treasures."
A Geneva auction of the stone in 2013 fetched a world record price of $83m but the buyer, a New York-based diamond cutter Isaac Wolf, and the consortium he led, could not pay up and defaulted on the deal. Sotheby's, who thought they had a successful sale at the time, played the theme music to the Pink Panther film to celebrate.
This led to Sotheby's owning the diamond for several years, however, as the market for large gems has picked up it has again put the diamond up for sale.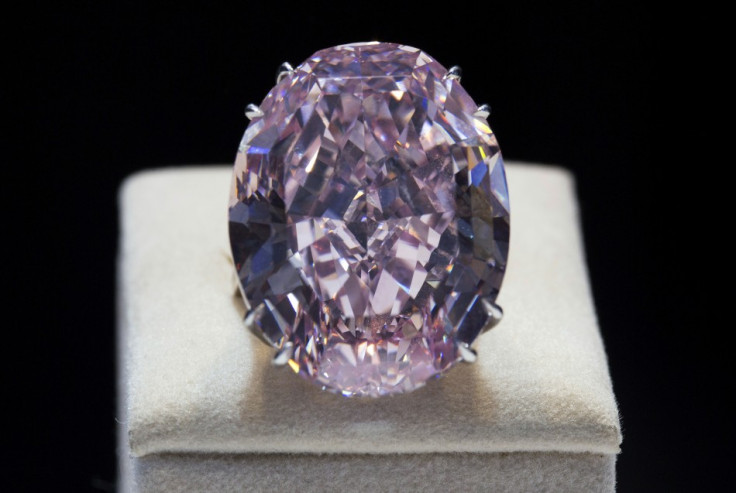 The stone is the largest internally flawless vivid pink diamond to be graded by the Gemological Institute of America.
It took dealer Steinmetz Diamonds two years to cut the 59.6-carat jewel, which is as big as a walnut, from a 132.5-carat rough stone after it was mined by De Beers in Botswana in 1999.
The sales price for Pink Star is equal to more than a third of De Beers first quarter diamond cycle sales of $1.9bn.
The record gem sale until now was held by the Oppenheimer Blue, which sold for $50m last May.