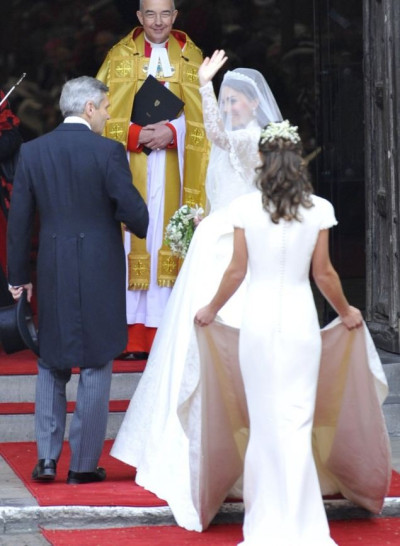 It was the dress that made her bottom famous. When Pippa Middleton stepped out of the car at her sister's Kate's wedding all eyes were on her and the bride was quickly forgotten.
Pippa had tongues wagging when she walked up the isle behind Kate to watch the Duchess get married to Prince William left men in April this year.
But seven months after the Royal wedding, woman across the globe keen to get that look and that bottomcan after Alexander McQueen released a nearly- identical version of the Sarah burton dress online.
Woman the world over can now get their hands on the dress which is being sold through online retailer Net-a-porter.com at a fraction of the price of the original.
The statement cowl-neck, silk-crepe gown comes complete with only a few minor with only minor alterations to the original such as a zip rather than buttons seen on the spine of the dress retails at just £1,995, a bargain compared to the original which is rumoured to have cost a staggering £20,000.
The dress is already available on Net-a-porter.com's UK site but can be reserved from other parts of the world.
A near-identical version of the dress worn by Pippa Middleton at her sister Duchess Catherine's wedding to Prince William has gone on sale on the UK site, while it is available to reserve from other parts of the world.
This is not the first time a replica of that infamous dress has been designed. Earlier this year, Debenhams's made a High Street alternative which retailed £170 and sold out in minutes.
Just incase you forget just how exactly her bridesmaid dress made her bum famous, we have complied a gallery just to remind you...