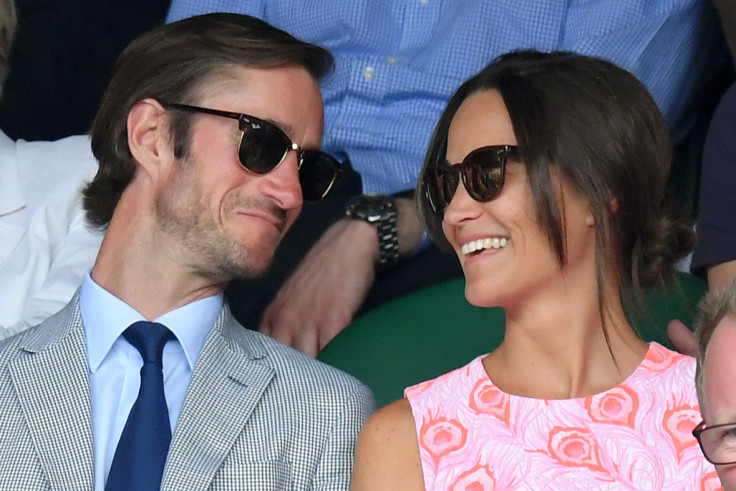 Pippa Middleton and fiancé James Matthews have reportedly set a date for their wedding. The couple, who announced their engagement in July, are already making plans for their big day.
The 33-year-old bride-to-be, who has her sights set on a wedding in 2017, has had 'Save The Date' invitations made, which will be delivered along with their Christmas cards to friends and family. Pippa has also been having fittings for her wedding dress and will reportedly wear a £10,000 designer gown as she walks down the aisle, Mail Online reports.

She famously made global headlines as a bridesmaid at the wedding of her sister the Duchess of Cambridge to Prince William, courtesy of a figure-hugging dress. The socialite is now determined to wear a show-stopping outfit on her big day.
"Pippa Middleton and fiancé James Matthews have fixed a date for their wedding next year, I can reveal — and she looks set to walk down the aisle in style in a £10,000 gown," reports the Daily Mail. "Pippa is having some luxurious 'Save The Date' invitations made, which will be sent to family and friends inside their Christmas cards. And the 33-year-old is determined her gown overshadows the dress that she wore to sister Kate's wedding."
According to Mail Online, David Emanuel, 53, who designed Princess Diana's wedding dress advised that Pippa avoid replicating her sister's wedding gown.
"As long as it's the complete opposite of the Duchess of Cambridge — then she stands a chance," he said according to the Daily Mail. "She's not a royal; she's not going to be a royal. And that's all I'm saying."
"I personally, would put her in something very soft, perhaps chiffon, with a train of course because it's dramatic," he continued. "Possibly a little lace bodice, soft and fluid, I mean she's got a great shape."
Pippa is now focused on her wedding after a hacking scandal threatened to overshadow her wedding news. She was the latest victim of an iCloud hacker after a man offered to sell 3,000 private photographs of her and hedge fund manager fiancé James Matthews to the press. The photographs, which were illegally taken from her iCloud account, were offered to several UK publications for £50,000.
The images are said to include photos of the newly engaged socialite at a fitting for her wedding dress, naked shots of her fiancé, as well as pictures of the Duke and Duchess of Cambridge with their children Prince George and Princess Charlotte.
Following a civil court action by Pippa, the High Court banned publication of the photos ensuring that her photos and videos are not leaked to major news media outlets.