Pixar's Sanjay's Super Team introduces Hindu heroes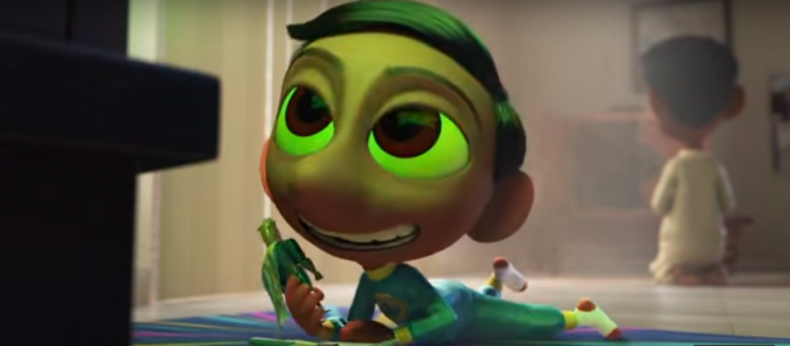 Pixar has released their latest short film, Sanjay's Super Team, which is its first to feature Indian characters. The short film tells the story of an Indian boy who prefers to watch superheroes on TV, rather than pray with his father.
After begrudgingly giving up his action figure to sit and pray at the shrine in their home, he starts to imagine that the Hindu gods are superheroes which brings him to understand them better and eventually creates a bond between father and son. The short is being screened before Disney Pixar's latest feature film, The Good Dinosaur.
Pixar's chief creative officer, John Lasseter, has been working to be more inclusive of other races and cultures in Pixar's movies. He gave the go-ahead to UK-born animator Sanjay Patel to use his own childhood experience to create the seven-minute film.
"John said he loved the idea about a movie about a kid not appreciating his culture, but he also really loved the idea that through appreciating your culture, you can build a connection with your father," Patel told Mary Sue. "And that was absolutely true of my own story and isn't something we had to manufacture for this film. It took me 30 years to get here, but it is definitely based on a true story."
Born in the UK, Patel grew up in Los Angeles at his parent's Lido Motel which happens to provide the setting for the film. He told the LA Times about being unable to openly embrace his Indian background at work. "It took me a long time to feel safe with my identity, but John Lasseter felt strongly about celebrating the personal side of the story."
After talking about his inhibitions, it was Patel's father who told him to pitch the idea, saying it would be "bad karma to not at least try and do what they're asking you to do".
Recounting his dad's reaction to the film, Patel told Geeks of Doom: "He was super emotional. Breaking down. I'm like 'Dad, what are you doing, keep it together.' It was sweet. The way we sort of coalesced, it was like the father and son, we look into each other's eyes, and figure out this way we compromise."
Patel has also worked on the illustrations for The Little Book of Hindu Deities which introduces kids to Hindu deities. While Pixar remains one of the bigger names in animation, over the past, the studio has been pulled up for not being racially diverse, with most of its characters either being Caucasian or being voiced by white people. The creation of this short is a move by the studio to be more inclusive.
Strong female characters only recently started making an appearance in their films and AV Club pointed out that "Pixar has an even worse track record when it comes to representing people of colour". Working to address the issue, Lasseter created a position for Head of Inclusion and Diversity. "It's very important to us… to have female and ethnic characters. It's grown in importance over time. As you'll see in future films, we're really paying attention to that."