Plane forced to land after 'drunk woman throws food, assaults steward and escapes handcuffs'
Robin Dorothy Ducore faces up to 20 years in jail if found guilty of interfering with flight crew.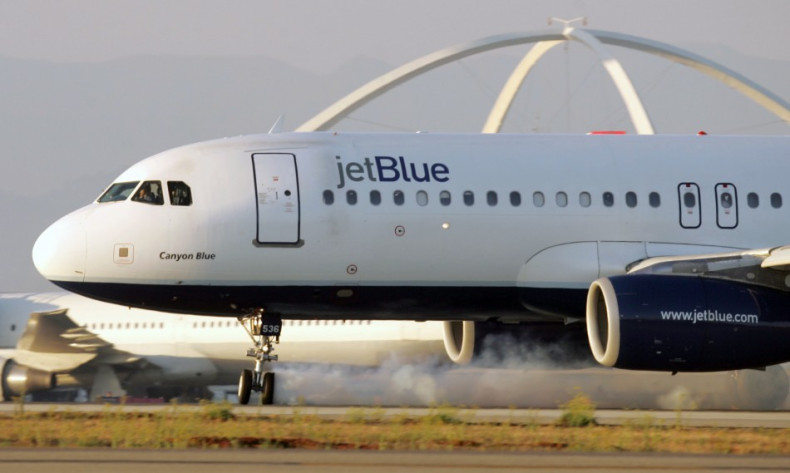 A flight had to be diverted after a reportedly "drunk" female passenger "flirtatiously" touched a fellow passenger on the head, tossed snacks around her, swore at other passengers and tried to free herself from handcuffs.
The woman, who according to her attorney was drunk before she boarded the plane, is set to appear in court in Virginia on Friday (16 February) and faces up to 20 years behind bars if she is found guilty of interfering with a flight crew.
The incident unfolded on 29 July 2017, when a JetBlue flight on its way from the Dominican Republic to John F. Kennedy International Airport in New York had to be diverted to Dulles International Airport in Washington, reports NBC News.
According to an affidavit unsealed this week, Robin Dorothy Ducore ordered two glasses of white wine from a flight attendant, before swiftly downing them and ordering another two shortly afterwards.
Having consumed four glasses within a 90-minute period, she began touching the head of the passenger next to her, who reportedly looked uncomfortable at her behaviour. However, when the flight attendant attempted to calm her, she began swearing and talking loudly, a court was told.
Court documents stated the flight attendant subsequently opted to move the other passenger away from Ducore, a move which seemed to anger the latter. A doctor then offered to sit next to the woman, but reportedly lasted only five minutes before telling the flight crew she would not sit "next to that psychotic", adding the woman was like a "caged animal".
During her brief spell next to the Ducore, the doctor claimed she was hugged by the woman, who began crying about a family member. However, she felt increasingly uncomfortable at the grip of Ducore's hugs and opted to return to her original seat instead.
According to the affidavit, the decision further angered Ducore, and she resumed screaming and began kicking the seat in front of her.
By this point, the flight crew realised the passenger was inebriated and tried to help her sober up by handing her snacks and a bottle of water, only for Ducore to toss both across the aircraft.
The court was told attendants then resorted to restraining the unruly passenger with a set of plastic handcuffs, while she kept cursing and sobbing. "I hate my life," she reportedly said, before complaining "nobody" loved her.
However, Ducore managed to free herself after a short period of time, before insulting a steward and kicking him in the leg.
Another flight attendant eventually managed to restrain her but by then the captain had decided to divert the flight, which was carrying 144 passengers, to Washington for safety reasons. The decision stood even after Ducore reportedly passed out for the final 20 minutes of the flight.
The airline issued each passenger aboard the plane a $150 voucher.