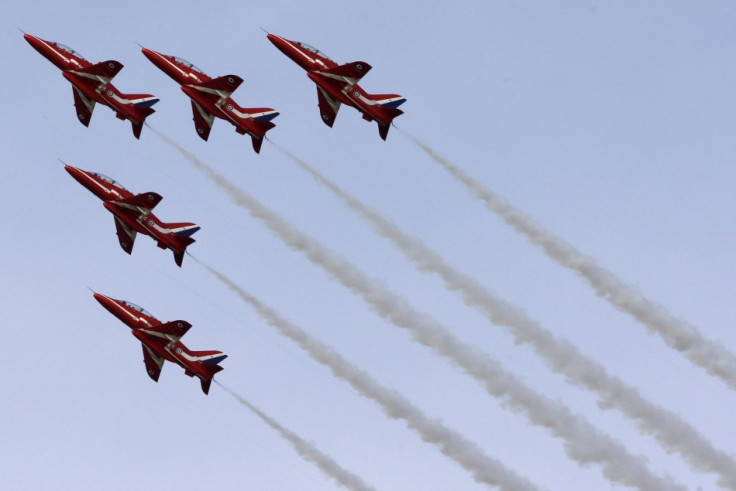 Claims that the troubled Red Arrows will be axed have been dismissed by the Ministry of Defence, despite a looming £100 million bill to replace the planes.
The RAF Red Arrows display team - which has seen two of its pilots killed since August - cost nearly £8.8 million to operate and has come into recent criticism over the safety of its pilots.
It has been feared that the Red Arrows are now under treat from budget cuts which they have already escaped several times.
The jets the Red Arrows are currently using, the Hawk T1, are due to be replaced in 2020 as the aircraft for RAF trainers by Hawk T2s. As of yet there has been no plans to order any for the Red Arrow display team.
One Ministry of Defence (MoD) spokesperson has insisted: "There are no plans to cut the Red Arrows at all."
Last week Flight Lieutenant Sean Cunningham was killed as his ejector seat went off while his jet was sat on the runway at RAF Scampton in Lincolnshire.
Flt Lt Cunningham, 34, was hurled 200 feet up in the air after his Martin Baker Mark 10b ejector mechanism went off. Paramedics treated the 35-year-old before he was airlifted to hospital where he died shortly afterwards,
After the incident, the MoD grounded all non-essential training flights fitted with ejector sears similar to the one in which Flt Lt Cunningham was killed.
The accident happened less than three months after another Red arrows pilot, Flt Lt Jon Egging, 33, was killed after jet crashed at an air show in Dorset.
Last year the RAF suspended its fleet of 126 Hawk T1 jets after faults with the seats.