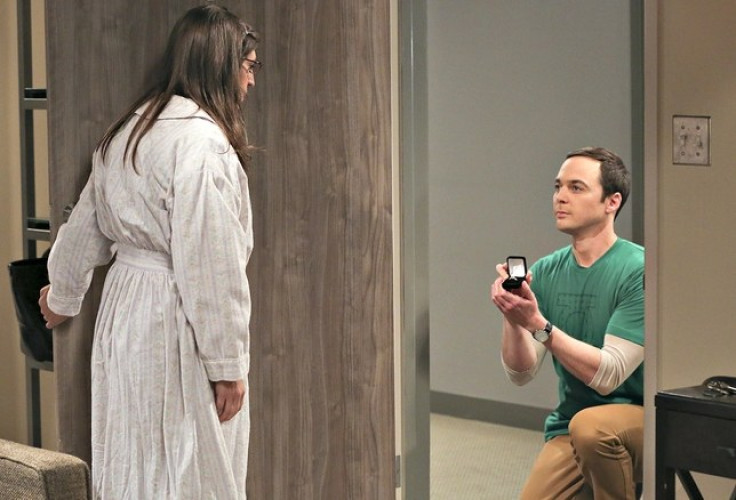 The Big Bang Theory season 11 will start filming soon. Actress Mayim Bialik, who plays Amy Farrah Fowler, took to Instagram to reveal that her hiatus time is nearing an end.
Posting a snap of her son in Malibu beach, she wrote, "#hiatus almost over #malibu." The last episode of The Big Bang Theory aired back in May, where Sheldon proposed to his longtime girlfriend Amy and the show ended without revealing if she said yes.
Fans are thrilled to learn that the hiatus period is almost over and took to the comments section to share their excitement. One user asked, "When do u guys go back to work? Please respond"
Another comment reads, "Beautiful pic! Hope you're feeling better.. can't wait for the new season!" One fan is hoping that Bialik's voice is ready for Amy's antics and wrote, "Thinking about you and hoping your voice is ready for Amy's antics❤"
Back in June, the 41-year-old revealed that she strained her vocal chords and that she 'can't speak for a month.' She even skipped 2017's Comic-Con in San Diego to continue to resting her voice so she could be ready for when they start production in August.
A fan comment on her Instagram post reads, "Adorable, Glad you're enjoying your hiatus but please get back to work! We all need the laughter! Oh, and to find out if Amy says yes!. Another wrote, "Feel better. Enjoy and see you soon!"
CBS has also announced a new showrunner for The Big Bang Theory season 11, due to its spinoff series, Young Sheldon, which is premiering this fall. According to Deadline, Big Bang Theory executive producer Steve Holland will take over the showrunner reins in Season 11, replacing Steve Molaro, who is set to help the spinoff series, Young Sheldon.
Although Molaro isn't abandoning the parent ship completely, and that he will continue to oversee the CBS's top comedy sitcom, alongside co-creator/executive producer Chuck Lorre, while Holland will serve as day-to-day showrunner and run the writers' room.
The Big Bang Theory season 11 will premiere on 25 September at 8pm EST, immediately followed by Young Sheldon premiere at 8:30 pm EST.