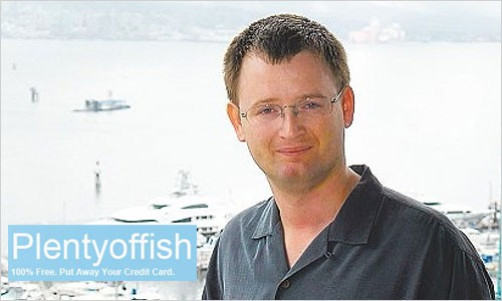 It's one of the oldest sales ploys going. But if it sounds too good to be true, it probably is.
An internet dating site which offers the promise of no-strings-attached "hook-ups" has been forced to tighten up its vetting procedures after it was revealed that less than 0.2% of its users were women seeking casual sex.
The Plenty of Fish website, which counts its membership at 55 million people worldwide, is to scrap its "intimate encounters" function after it became apparent that many of its female users were not what they seemed.
Markus Frind, the founder of the site Plenty of Fish, said he had taken radical action after complaints of harassment by women, and the discovery that many of its female profiles were bogus.
In an email to all users of the site, Frind said he had ordered an overhaul after finding that only 6,041 of the site's 3.3 million daily users were women looking for a one-night stand.
"Intimate encounters on POF can be summed up as a bunch of horny men talking to a bunch of horny men pretending to be women," said Frind. "The ones with hot pictures are mostly men pretending to be women."
Frind also moved to curtail members' ability to contact other users where the age gap was more than 14 years.
"There is no reason for a 50-year-old man to contact 18-year-old women," he said. "The majority of messages sent outside those age ranges are all about hook-ups."
Founded in 2003, Plenty of Fish is now one of Britain's biggest dating sites, with 24 million messages sent each day, and a turnover of £6.6 million.
Frind said: "When I created POF, I wanted it to be all about finding relationships with the right person. For the first seven years, this worked really well. I got the site to 10 million users without any employees and POF was generating a ton of relationships."
The site had led to the birth of an estimated one million babies, Frind claimed recently.
But the increasing use of smartphone apps had enabled a small core of men to use the site exclusively for casual "hook-ups", leading many women to complain of harassment.
An estimated 2% of the site's male users "started to use POF as more of a hook-up site, mostly due to the casual nature of mobile phone use", Frind acknowledged.
One 21-year-old user told the Independent: "I used to get all sorts emailing me, asking to be my slave and asking for sex. I wouldn't use it again. It seems people just want casual fun."
Another, aged 29, said: "At first I was shocked, but it happened so often, it just became laughable. I wouldn't say I'm very attractive but I was getting about 53 emails a day from men.
"Sometimes I would get alerts at 3am, from men telling me their wife wanted a threesome. I've since warned my friends not to go one the site because guys just want to hook up for sex."