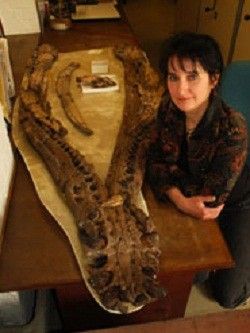 Pliosaurus also had an arthritis problem, according to a new study. Bristol University scientists have found signs of a degenerative condition similar to human arthritis in the jaw of a pliosaur. They discovered this when they were studying fossils of the animal found at Westbury in Wiltshire, the UK.
Pliosaurus is an ancient sea reptile that lived 150 million years ago during the Jurassic and the Cretaceous period. It was about eight metres long, with a large, crocodile-like head, a short neck, whale-like body and four powerful flippers to propel it through water in pursuit of prey; it somewhat looks likes the mythical lochness monster.
Pliosaurus had huge jaws and 20-cm-long teeth, giving it the capability to rip most other marine reptiles or dinosaurs to pieces.
However, this Pliosaurus had an arthritis-like disease in its jaw. Researchers found that the Pliosaurus was a female. They discovered this when they analysed the skull crust of the animal. They found that the skull crest was quite low, and that the female skull crust was lower than males'.
The Pliosaurus had signs of a degenerative condition similar to human arthritis, which had eroded its left jaw joint, displacing the lower jaw to one side.
The animal evidently lived with a crooked jaw for many years, because there are marks on the bone of the lower jaw where the teeth from the upper jaw impacted on the bone during feeding. Clearly, the animal was still able to hunt in spite of its condition.
Researchers believe that the animal could have developed this condition as part of the aging process. The pliosaur's large body size and the fused skull bones suggest that pliosaur was quite old.
"In the same way that aging humans develop arthritic hips, this old lady developed an arthritic jaw, and survived with her disability for some time. But an unhealed fracture on the jaw indicates that at some time the jaw weakened and eventually broke. With a broken jaw, the pliosaur would not have been able to feed and that final accident probably led to her demise," said Dr Judyth Sassoon, scientist at the University of Bristol, in a statement.
"You can see these kinds of deformities in living animals, such as crocodiles or sperm whales and these animals can survive for years as long as they are still able to feed. But it must be painful. Remember that the fictional whale, Moby Dick from Herman Melville's novel, was supposed to have had a crooked jaw," said Mike Benton, Professor of Vertebrate Palaeontology at the Bristol University, in a statement.
The pliosaur from Westbury is an amazing example of how the study of disease (palaeopathologies) in fossil animals can help us to reconstruct an extinct animal's life history and behaviour and to show that even a Jurassic killer could succumb to the diseases of old age.