Poland: Weapon smuggling following Ukraine war arming organised crime and terrorists in western Europe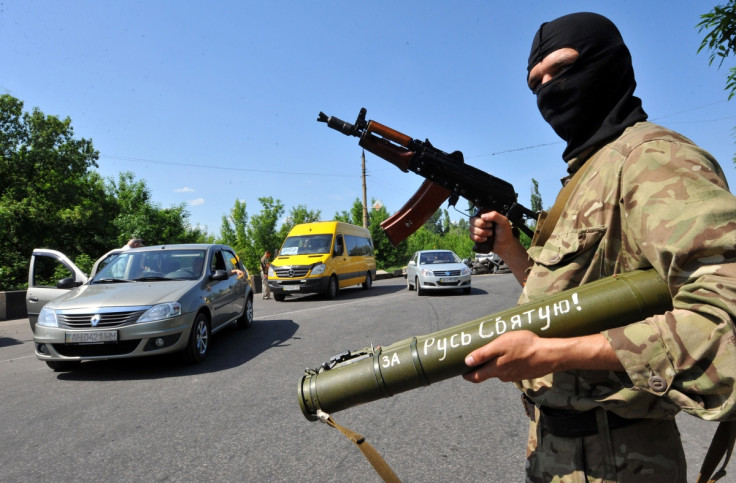 There has been a surge in attempts to smuggle illegal weapons into the European Union following the outbreak of conflict in east Ukraine, according to figures from Polish border guards.
Since fighting broke out between pro-Moscow and Ukrainian government forces in May 2014, thousands of weapons, including high-powered Kalashnikov assault rifles, rocket launchers, and grenades, have entered the hands of rival militias, and seeped into the country's black market.
Poland has been forced to introduce increased security measures, with criminals attempting to exploit trafficking routes across across the Ukrainian-Polish border and transport weapons into the heart of the European Union, where they can fetch as much as $2,000 (€1,800).
While in 2013 only three firearms were seized from smugglers by Polish authorities, in the 18 months following the outbreak of hostilities there was an increase of almost 2,000%, with a total of 53 guns seized, as well as 12 gas guns, which can be converted to fire live rounds, according to figures from Polish border guards.
There has also been an increase in ammunition smuggling, with 1,157 pieces of live ammunition seized since the war began, and only 191 seized the year prior to hostilities breaking out.
Arms smuggling rates from Ukraine to Poland are at their highest rate since 2012, when Polish border security was increased for the European Championship football tournament hosted jointly with Ukraine, and officials seized 57 firearms and 3,457 pieces of ammunition. The number of firearms confiscated the previous year was 25, before dipping again the year after the competition.
There is increasing concern about the increasing availability of weapons fuelling terrorism and organised crime in Europe. Islamist terrorists armed with illegally acquired weapons have committed two terror attacks in Paris in the space of a year, and security services across the continent are battling to prevent further attacks by groups of roving gunmen.

Thousands of weapons enter Ukraine
The Ukrainian government claims more than 500,000 firearms have been smuggled into the country by Russia to arm militias, which took up arms after pro-Moscow President Viktor Yanukovich was ousted in a popular uprising.
As it struggled to roll back rebel advances, Ukraine became increasingly reliant on its own volunteer brigades, some with far-right affiliations, which it armed from military stockpiles.
"You have an internal civil conflict, as in the Balkans and now in Ukraine, and what it does is act like a sponge and soaks up weapons," said Mark Galeotti, an expert on crime and security in the former Soviet Bloc and a professor of Global Affairs at New York University.
Galeotti said that amid a breakdown in law and order in east Ukraine weapons had been acquired not just by militias but also by "people who in times of trouble would rather have a gun in their wardrobe because they don't really trust the authorities".
After the conflicts in the Balkans in the 1990s thousands of weapons – often from Soviet military stockpiles – entered the European black market, and there are fears of a similar surge of armaments from east Ukraine amid the worse European terror threat in decades.
Violence in east Ukraine between government forces and pro-Moscow militias has been sporadic since September. Under the terms of the recent Minsk ceasefire agreement, officials from the European Council for Security and Co-operation in Europe have begun overseeing the withdrawal of heavy weapons from the front line in Donetsk and Donbass.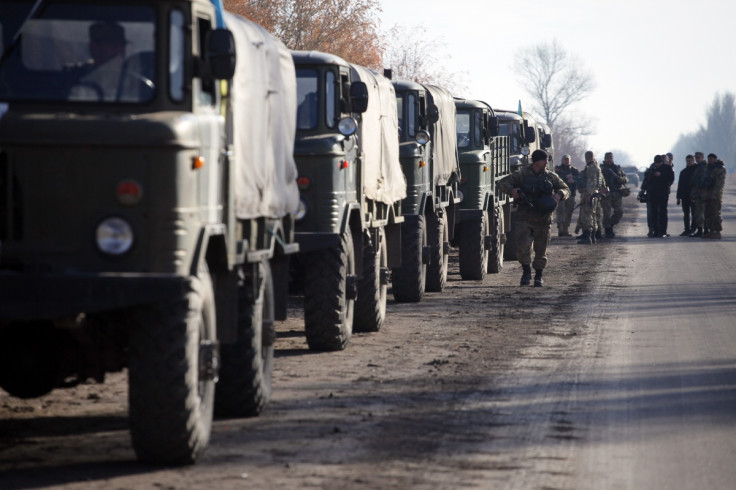 However, no efforts are being made by the agency to restrict the flow of small arms, and Ukrainian authorities claim that the smuggling of Russian weapons into the country continues unabated, though Moscow has long denied allegations of involvement.
"What happens is as peace breaks out, and as state reconstruction and legitimisation takes place, people are looking to get rid of these weapons, people have no need for them and the natural law of supply and demand means often they will flow elsewhere," said Galeotti.
Lucrative western Europe is the market many criminals will be seeking to exploit, he added. "This is a depressing inevitability. This is the natural dynamic of the illegal arms market".
Nicolas Florquin, of Geneva-based think tank the Small Arms Survey, said that unless European and Ukrainian authorities take urgent action illegal weapons could flood the EU.
"A lot [of diplomatic effort] is about resolving the situation in Ukraine, and a lot of the discussion has involved heavy weapons and the withdrawal of armoured vehicles and so forth from the front line," he said. "But there has been very little talk of the control of small arms and light weapons. I would recommend putting that on the agenda of talks as a matter of greater urgency."
Kalashnikovs sold in west European cities – such as illegal weapons hub Brussels – can fetch up to $2,000, a more than 200% increase on the $500 they will reportedly fetch in Donetsk in east Ukraine. Often they are transported into Europe by individual operators one piece at a time, in a racket dubbed the Ant Trade by experts.
The weapons fuel terrorism and organised crime, as seen when criminals armed with Kalashnikovs taking a bank manager and his family hostage near the Belgian border only days after the 13 November Paris attacks.
The Odessa Network
Ukraine has long played a key role in the global weapons trade. In 2014, the Washington-based Center for Advanced Defense Studies released the report describing a network of individuals and companies allegedly responsible for shipping weapons to conflict hot spots worldwide from the Black Sea port of Odessa, which it dubbed the 'Odessa Network'.
The new influx of weapons into the country is being blamed for a spike in violent crime, with the Ukrainian General Prosecutor's Office finding that 2,000 weapons related crimes were committed in the first nine months of 2014, compared to 581 for the whole of the previous year, the Daily Signal reported.
It is not just Poland that has recorded a surge in arms smuggling from Ukraine as weapons spill onto the black market, with Alexander Tishchenko, spokesman for Belorussia's border security committee recently telling Russia's TASS state news agency that border security had been increased after an increase in illegal arms smuggling from Ukraine.
A Polish Border Guards spokeswoman told IBTimes UK that measures were being taken to tighten border security, with 11 observation towers equipped with surveillance cameras to be built, and drones launched to patrol the border.
Due to its proximity and wealth, western Europe will remain the focus for Ukrainian arms traders, said Galeotti, using well-established drugs and human trafficking routes.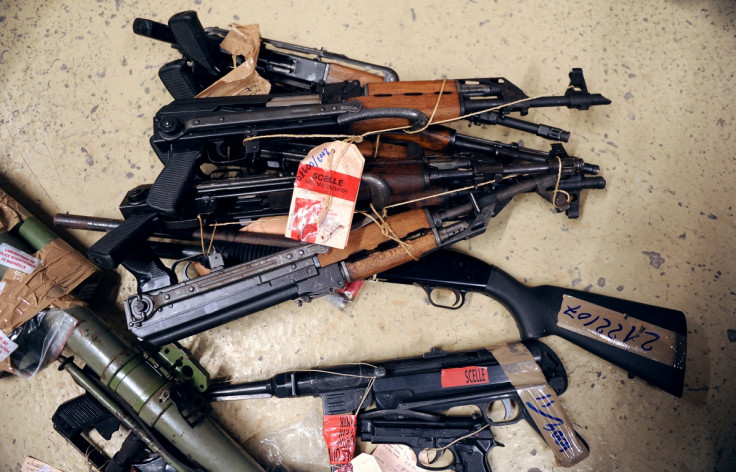 Galeotti continued: "There are such deeply established smuggling routes out of Ukraine, for example for Afghan heroin. The problem is if you have these pipelines already established it means you have corrupted border officials, people who know the ropes.
"If you are travelling in a car with a suitcase of heroin in the boot, frankly there is no real disincentive to throw in a couple of handguns and a Kalashnikov. If you are stopped and searched you are already at high risk."
Once weapons are trafficked into the open border Schengen zone, they can easily be transported between member states. The Kalashnikovs, handguns and Scorpion machine gun used in the January 2015 attacks on the Charlie Hebdo magazine and a Kosher supermarket were allegedly bought by terrorist Amedy Coulibaly from an illegal arms trader in Brussels, one of the hubs in the EU trade in illegal firearms. A man recently arrested in Germany is accused of selling the perpetrators of the November Paris attacks their weapons through an illegal website.
The number of illegal firearms in Europe is steadily increasing, with figures from the Paris-based national Observatory for Delinquency showing the number of illegal guns in France increasing in double digits for years.
Euan Grant, a former strategic intelligence officer for HM Customs and Excise who advised Ukraine on border security, told IBTimes UK of the influx of weapons from Ukraine: "Is not yet a major issue in the EU, but it has to be seen to be a potential one.
"They [weapons] will undoubtedly be trafficked into Europe, and they are leaking [onto the black market], as shown by various incidents," he said.
EU interior ministers recently met to discuss measures to combat the trade in decommissioned weapons in Europe, but experts have warned that more needs to be done. Though the European Commission recently advocated centralising border checks for the wave of refugees and migrants entering the EU, no co-ordinated measures have been proposed in response to weapons smuggling.
Galeotti said that tackling the problem would require urgent action not just in Europe, but against corruption on the Ukrainian side of the border, with police and border officials too often prepared to look the other way in exchange for a bribe.
With the threat from terror group Islamic State (Isis) the key concern since the Paris attacks and a series of thwarted attacks across Europe, Galeotti warned not to divert resources from the battle against organised crime, which is the real source of the market in illegal weapons. "Actually fighting organised crime and minimising its capacity and will to look for weapons one of the best ways you can hit the market," he said.
He warned Europe not to repeat the mistakes of the US, where resources were focused on battling terrorism in the wake of 9/11, allowing organised crime gangs to expand.
Ukraine, Grant said, needs to be offered "tangible assistance" to tackle its smuggling networks. "And that would be offered in a variety of ways, it may be financially. They need concrete practical assistance Too much of the time we in western Europe take the attitude 'we have a people trafficking problem how can you help us? We have a heroin problem, how can you help us?' The question should be 'what can we do for you?"
© Copyright IBTimes 2023. All rights reserved.