Police arrest lorry driver after discovery of 18 suspected illegal immigrants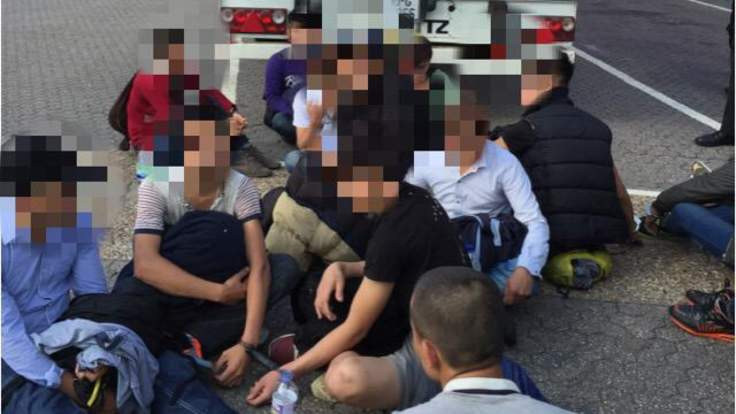 Police have discovered 18 suspected illegal immigrants while searching a lorry stopped by officers on the M1 motorway.
Law enforcement officials uncovered the stowaways in the truck after a member of the public tipped them off about what they referred to as "suspicious" activity as it travelled down the M25 in Hertfordshire.
During the search that took place at Junction 9 of the main arterial motorway to the North of England they discovered the individuals that are suspected to have entered the UK illegally and without proper documentation.
The driver of the lorry, a 40-year-old Polish national, has been arrested on suspicion of harbouring people illegally with intent to help them illegally enter the UK. If he is found guilty the driver could expect up to a £2,000 fine for each of the 18 stowaways, a total of £36,000.
The amount of fines for assisting illegal immigrants with passage into the UK has jumped from 998 fines in the 2012/13 period to 3,319 prosecutions in the 2014/15 period.
The suspected illegal immigrants have now been detained in custody as a precautionary measure to protect their safety.
A police spokesman said: "Eighteen people who are believed to have entered the UK illegally on the lorry were taken into custody for their safety."
The report of the arrests will make uneasy reading for the Prime Minister David Cameron who has promised hard line policies on those attempting to enter the UK illegally.
He has introduced legislation that will allow the wages of illegal workers to be confiscated in a bid to lower the numbers of individuals wanting to enter the UK, which in the last Parliament he said the government would reduce to be in the "tens of thousands" each year.
In partnership with the French authorities the Prime Minister has bolstered enforcement measures at Calais providing extra police officers additional sniffer dogs and more guards at the French port.
However, he has admitted that there is "a lot more to do".
© Copyright IBTimes 2023. All rights reserved.