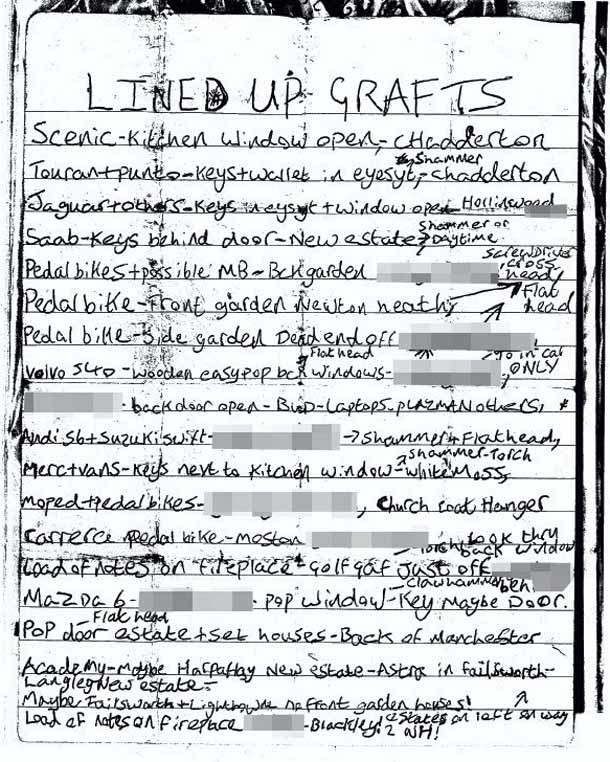 A burglar's "to-do" list of all the houses he plans to rob and how he intends to do it during the Christmas season has been released by Greater Manchester Police.
The entries include a list of cars he intends to steal, along with details such as ''Wooden easy pop back windows'' and ''Key maybe behind door.''
The list is being promoted by Greater Manchester Police to warn people of crimes they are at risk against if they leave their valuables unattended.
It was found by police in Oldham, Greater Manchester, after the raider dropped it on a street after burglar. The man has since been caught and has been jailed for two years after admitting some of the burglaries on the list.
"Thieves steal all year round but get particularly busy during the Christmas and New Year period when homes and cars are filled with presents making the items too good to resist for any would-be thief," said PC Andy Pickering.
"This to-do list gives an insight on how thieves identify their targets and should serve as a reminder to householders on how to protect themselves from falling victim to crime," he said.
"While most thieves are opportunistic, there are some who are more organised and will systematically search out the weaknesses in your neighbourhood for the easiest homes, cars, pedal bikes or other valuables on your property to target and steal.
"Being a victim of theft is hard at any time of the year but is particularly so during this special period in the calendar."
Transcriptions of the list include entries such as "Touran (VW 7-seater) + punto (Fiat) - keys + wallet in eyesyt (sic) s (sledge) hammer - Chadderton" and Audi S6 + Suzuki swift (hatchback) - ***** park - s (sledge) hammer - torch - Whitemoss.
Greater Manchester police have urged people to take care during the Christmas period, giving advice such as locking all doors behind you as you get home at night and fitting a good burglar alarm.