Police in Argentina seized more than $60m (£43m) of cocaine from the Russian Embassy and arrested six people including an Argentine policeman and a former Russian diplomat.
"We have dismantled an international cocaine trafficking organisation operating between Argentina, Russia and Germany," Argentina's security minister Patricia Bullrich told a press conference on 22 February.
Bullrich said 389kg of cocaine had been discovered at a school within the grounds of the Russian embassy in Buenos Aires, the Argentine capital.
It was concealed in 16 pieces of luggage, the New York Times reports.
The Russian ambassador to Argentina, Viktor Koronelli, alerted the Argentinians to the suspicious cargo after staff discovered it on 13 December 2016.
Bullrich ordered border guards to enter the school in the dead of night and inspect the bags. They discovered the cocaine and replaced it with flour before fitting the bags with tracking devices.
Agents then played the waiting game as traffickers made several unsuccessful attempts to get the cargo out of Argentina.
A year after the switch, in December 2017, the cargo was finally shipped to Russia as diplomatic luggage in a government plane.
"The drugs never travelled to Russia – only the flour," Bullrich said.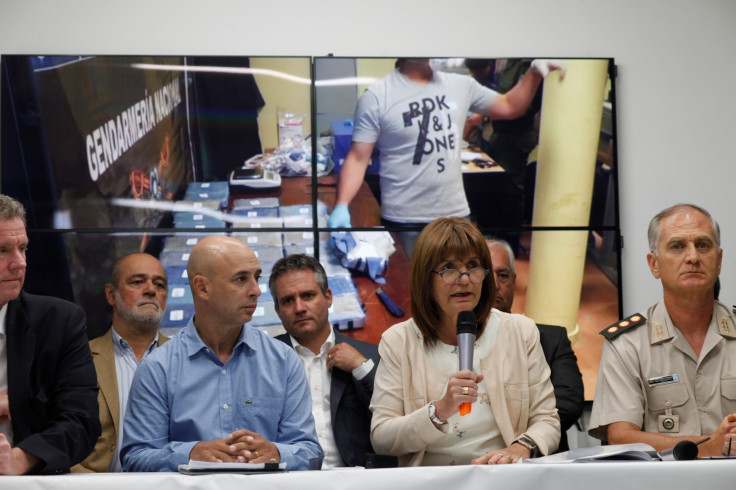 The Argentines monitored the progress of the flour throughout its journey, and two Russian men were arrested picking up the bags.
The others arrested were Ali Abyanov, a former embassy official and diplomatic insider to the trafficking ring; Ivan Blizniouk, a Buenos Aires police officer who helped get the bags through Argentinian customs; and two Russian-Argentine citizens.
An international arrest warrant has also been issued for a man identified only as "Mr K", who is accused of supplying the drugs to the embassy. He is believed to be at large in Germany.