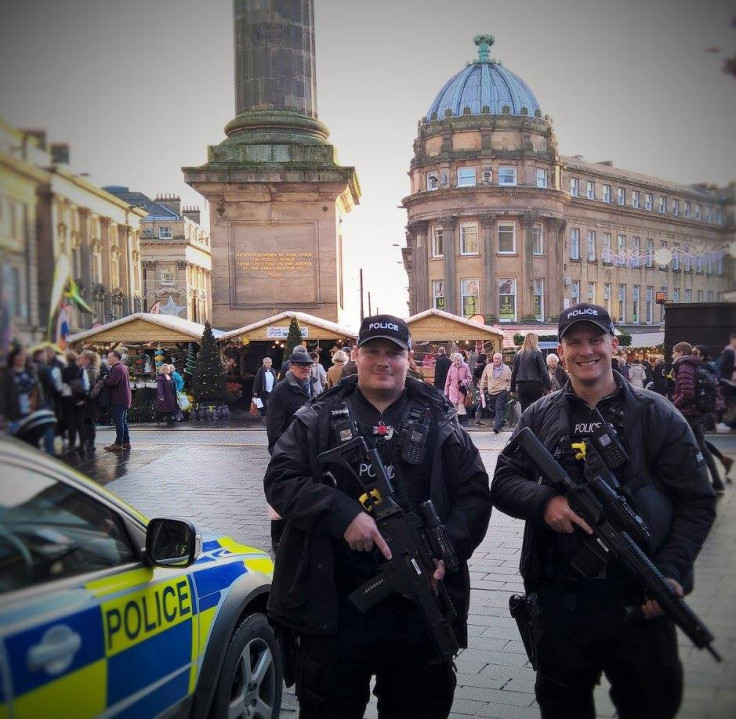 Police officers have reacted to criticism aimed at Northumberland Police after the force shared a picture of two armed officers smiling and posing while on patrol at a Christmas market.
The force were condemned for uploading the photo of two members of the Firearms Support Unit (FSU) at a market in Newcastle, adding that the public should not be alarmed as the officers are "purely for reassurance and to make people feel safe".
The force added: "These patrols have begun following the announcement from the Home Office last year that armed patrols would be stepped up across the country.
"Our FSU officers are just regular police at the end of the day and if you have any concerns make sure you go and have a chat."
However, the picture was criticised on social media, with several people commenting via Facebook and Twitter that the presence of the armed officers were "unnecessary". People were also upset that the officers were seen smiling and posing next to two young children.
Steve Falconer wrote on Facebook: "Because nothing makes kids feel more safe and Christmassy than two jack a***s with machine guns and intimidating body kit." Lesley Ann Moore said: "The guns are as long as the kids! In what scenario would they actually be expecting to use these at this Xmas market?"
Following the outcry, the BBC and other news outlets published an article focusing on the negative attention the photographs received.
In response, policemen across the country has uploaded their own pictures on on-duty policeman along with the #SmileForTheBBC hashtag to show their support for the officers.
In response to the criticism of the photos, Northumbria Police said: "Both our city centres are incredibly busy today and we know some of you may have seen our Firearms Support Unit (FSU) out in Newcastle.
"We understand people may be concerned to see armed officers but they are not there because of any specific threat or intelligence that something is going to happen.
"Last year the Home Office announced plans to increase the number of firearms across the country and in Northumbria the number of armed officers have increased by 50%.
"These types of patrols are not specific to Newcastle and nine other forces across the UK were given funding by the Home Office to increase the number of armed officers.
"They will still perform the roles of your normal patrol officer and will be happy to speak to any members of the public who are worried to see armed police in our region.
"It is a really busy time of year and public safety and public confidence is our absolute priority. We would encourage people to approach the officers if they see them out and about – they do what they do because they want to keep you safe."