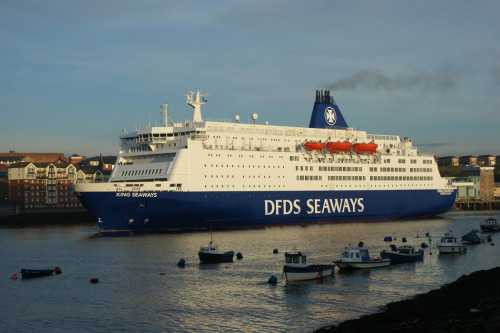 Two men are being questioned by police on suspicion of starting a fire after a blaze broke out on board a passenger cruise ship in the North Sea.
The DFDS ferry, carrying 946 passengers and 127 crew members, was en route to Amsterdam, sailing 30 miles off the coast of Flamborough Head when a fire broke out in an upper cabin at 2245 GMT on Saturday. The fire was extinguished by 2300 GMT.
Two passengers and four crew members were winched off the MS Kings Seaways ferry before it returned to North Shields early on Sunday. Those winched off the ferry have been airlifted to Scarborough but do not have any serious injuries, according to a spokesperson for the Marine and Coastguard Agency (MCA).
A spokeswoman for DFDS Seaways said 15 passengers and eight crew members suffered from smoke-related injuries and were checked by a doctor on the ship.
She added: "We will ensure that passengers and crew affected by the incident will be offered psychological assistance as well as other assistance that might be needed."
Two men have been arrested on suspicion of starting the fire.
Inspector Andrew Dixon of Humberside Police said the MCA had called them at about 23:00 GMT and had said at least one passenger was "believed to have set fire to a cabin".
"It is unknown if the fire was started deliberately or accidentally. As a result of this incident, the person suspected of causing the fire, or the person from the cabin where the fire occurred - be it deliberate or accidental - has been detained by ship staff," he added.
Three RAF search and rescue helicopters and two RNLI lifeboats were scrambled to the vessel but have since been stood down.
Passengers were only able to disembark later on Sunday morning, at 0900 GMT – around the same time as the ship was due to have docked in Amsterdam.
Olivia Elliott, who was in a nightclub on the ferry when the alarm went off, told Sky News: "It was scary out there in the middle of the ocean. You've never been in that situation before - you don't know what to do. We were outside for about 40 minutes before we were allowed to go back in."
Lynn Smith-Davis said fights broke out among frustrated passengers. "There was no panic where we were, but then later on when we were inside sitting in the bar and cafe area some people started fighting. Fights broke out, which really didn't help the situation."