Police investigating Banksy's 'free artwork offer to those who votes against the Tories'
Artist has offered to send a print to those who voted against the Conservatives.
Police are investigating an apparent offer by graffiti artist Banksy of his new artwork to anyone who votes against the Conservatives in the General Election.
On his website, the anonymous artist appeared to offer prints of a new limited edition artwork to people living in the Bristol North West, Bristol West, North Somerset, Thornbury, Kingswood and Filton constituencies.
The police probe is because it is a criminal offence under the Representation of People Act 1983 for any voter to accept or agree to accept a gift or similar in return for voting or refraining from voting.
The seats are held by Conservative MPs and are located around Bristol, where he once lived which is also home to many examples of his individual brand of subversive art.
On his website banksy.co.uk under the headline 'UK ELECTION SOUVENIR SPECIAL!' he offers a replica of his famous "balloon girl" but with the red heart replaced by a Union Jack.
Due to be released on Friday 9 June, the day after the election, Banksy is offering the prints to anyone who took a photo of their ballot paper from polling day and sends it to him.
Now Avon and Somerset police have revealed that they have opened an investigation after being contacted by members of the public.
A spokesman said: "We've received a number of complaints about an offer of a free Banksy print to people living in six Bristol constituencies in exchange for them voting in a certain way in the forthcoming election and we can confirm we're investigating the offer.
"Any person participating in an offer to receive a gift is at risk of being prosecuted."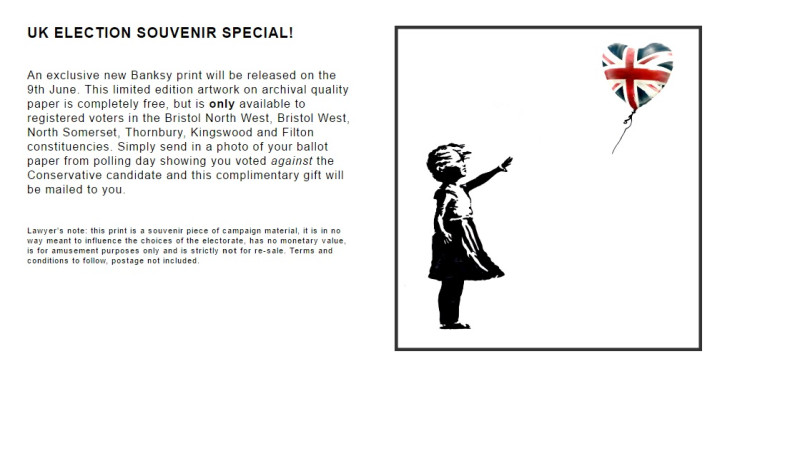 On the website, the offer is qualified by a so-called "lawyer's note" disclaimer, saying: "This print is a souvenir piece of campaign material, it is in no way meant to influence the choices of the electorate, has no monetary value, is for amusement purposes only and is strictly not for resale.
"Terms and conditions to follow, postage not included."
The Electoral Commission say that the electoral offence of bribery is: "where someone directly or indirectly gives any money or procures any office to or for any voter, in order to induce any voter to vote or not vote".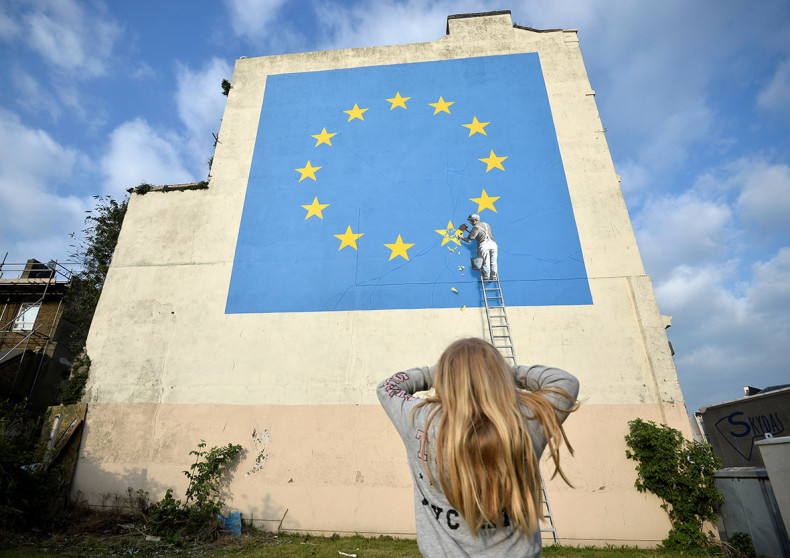 This would not be Banksy's first foray into British politics. In May, Banksy confirmed how a new mural of a man chiselling off one of the European Union's 12 stars from its flag was his artwork.
The piece mysteriously appeared overnight in the strongly pro-Brexit port town of Dover.
And in the same town on Monday (5 June) a huge effigy of Theresa May giving a two-fingered salute aimed across the English Channel, seemingly at France, appeared briefly on the famous White Cliffs.