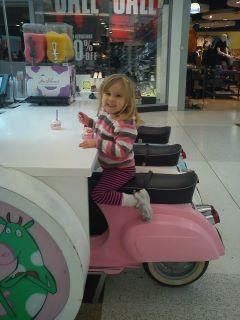 Chris White was confronted by a security guard at Braehead shopping centre, near Glasgow, when he took a photograph of his daughter "looking cute on the back of a Vespa seat at an ice cream bar" on Friday.
The security guard asked Mr White to delete any photos he had taken from his phone. When he informed the guard that he had already posted the photos to Facebook, the guard called two police officers who arrived at the scene five minutes later.
"My daughter was crying by this stage," said Mr White, "[she] was saying she didn't like the man and wanted to go." The police officers informed him that taking photos was illegal in the shopping centre and that there were "clear signs" saying no photography was allowed.
Despite the fact that Mr White was clearly on an innocent family shopping trip, one of the officers claimed he was in his rights to confiscate Mr White's phone under the Prevention of Terrorism Act. Mr White described the officer's demeanour as rude and "intimidating".
On a Facebook page set up following the incident, Mr White called for a boycott of Braehead shopping centre, citing the "truly ridiculous" nature of the situation. As of Monday afternoon, the group had amassed a following of over 8,250 members.
"Our priority is always to maintain a safe and enjoyable environment for all of our shoppers and retailers. The member of our security staff acted in good faith," said an official statement released by Braehead shopping centre.
"Although Friday's incident had nothing to do with a potential terrorist attack, the two retail assistants and the member of our security staff were faced with a situation they genuinely thought was suspicious. They witnessed a man taking photographs of a child, unaware that the man and the child were related
"I'm sure people will agree it is better safe than sorry," they added.