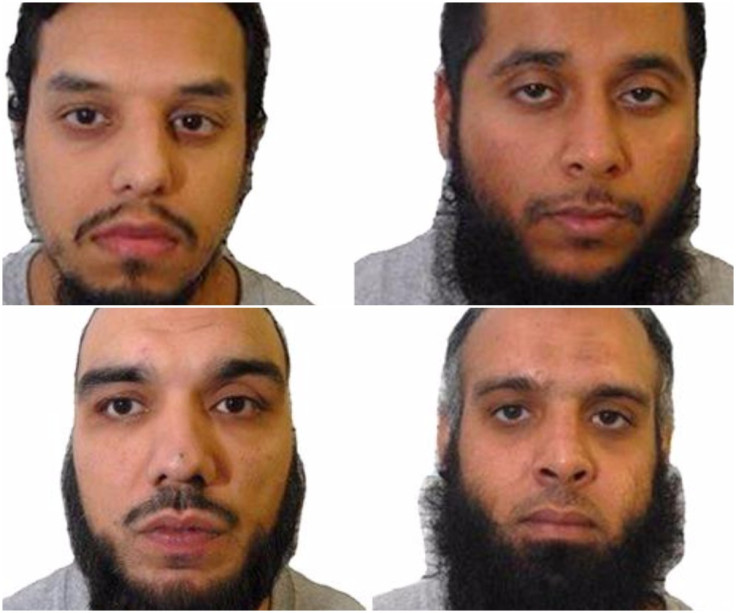 Police and MI5 agents set up a fake company called Hero Couriers in an elaborate plot to ensnare alleged terrorists planning a bomb attack in the UK, a court heard.
The operation saw an undercover police officer, referred to as Vincent, pose as the boss of the delivery company and recruit one of the four terror suspects, the Old Bailey was told.
The group was allegedly planning an attack using a meat cleaver and improvised pipe bomb.
Khobaib Hussain, 25, Naweed Ali, 29, Mohibur Rahman, 32, and Tahir Aziz, 38, are accused of having hoarded the weapons, including the meat cleaver which had the word kafir, or non-believer, etched onto the blade.
The jury was told how the terror suspects would communicate using encrypted messaging apps and meet at restaurants and parks in an alleged attempt to avoid detection.
Investigators set up Hero Couriers to target Hussain and establish whether he was involved in terrorist-related activity.
MI5 agents rented a warehouse in Florence Street, central Birmingham, with Vincent installed as manager and a second undercover officer, known as Haji, working alongside to refuel vehicles. Drivers were employed and even given polo shirts and high-visibility jackets with the Hero Couriers logo on them.
Vincent was told by his superiors to "identify criminals or associates of Mr Hussain to detect and prevent crime or to allow a prosecution of any offence exposed", the jury heard.
Speaking to the court from behind a curtain to protect his identity, the officer said he persuaded Hussain to come for a job interview. He said he offered the suspect a zero-hours contract worth £100 a day starting on 29 July last year. The job, which saw Hussain work two shifts a week cash in hand, saw the suspect tasked with relocating luggage between airports around the country.
Vincent was then contacted by Hussain's neighbour, Ali, about also getting a job with the fake company. It was about three weeks later, on 26 August, that Vincent searched Ali's black Seat Leon and allegedly found a sports bag containing the meat cleaver, an improvised pipe bomb, imitation handgun and shotgun shells. A search of Aziz's car the same day allegedly uncovered a Samurai sword stashed by the driver's seat.
The undercover officer's evidence, given on Thursday (6 April), comes after DS Ryan Chambers of the West Midlands Police spent days giving the court a timeline of the case. This included text and encrypted messages said to have been sent by the defendants and others in which they debated the merits of different armed factions fighting in Syria. The defendants also joked among themselves. At one point Ali is compared to a dopey character from Chris Morris's jihadi comedy film, Four Lions, the Guardian reported.
The court had heard earlier how three of the group had admitted terrorist offences in 2012 – Hussain and Ali for flying to Pakistan in an attempt to attend a terrorist training camp and Rahman for owning copies of al-Qaeda's Inspire magazine.
Ali and Hussain, from Sparkhill, Birmingham, and Rahman and Aziz, both from Stoke-on-Trent, have all been charged with preparing terrorist acts between 25 May and 27 August 2016. They deny wrongdoing.
The case continues.