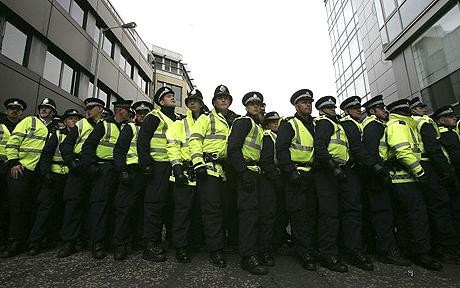 Police officers should be made to take annual fitness tests and have their pay cut if they repeatedly fail them, according to an independent review.
In the widest-ranging review of police pay and conditions in more than 30 years, Tom Winsor, in a review commissioned by Home Secretary Theresa May, also suggests chief constables should be able to make any officer redundant as part of budget cuts. At present this can only occur if an officer has served for 30 years or more.
The latest recommendations form the second stage of the review compiled by Winsor, a lawyer and former rail regulator.
Officers who fail to reach level 5:4 on a bleep test - equivalent to an average speed of 5.5mph for three minutes, 35 seconds - three times should face disciplinary action and a pay cut, according to Winsor.
In the Metropolitan Police of the 31,000 police officers more than half (52 percent) of its male officers are overweight, a fifth (22 percent) are obese and one in 100 are "morbidly obese", the report showed.
A third (32 percent) of women in the Met are also overweight, 16 percent are obese and 2 percent are morbidly obese.
"The public will be surprised that, after passing a fitness test at the point of entry, except in special units like firearms, physical fitness is not tested again in a 30, 35-year career," Winsor said.
Other proposals include applicants being able to enter the police service at the rank of inspector and then rising to superintendent after "rigorous testing".
The radical shake-up of policing could also see the pension age rise to60 - officers currently retire after 30 years of service from the age of 50 - and the starting salary for a constable reduced from £23,500 to £19,000.
"The existing pay system is unfair and inefficient," Winsor said in his report.
"It was designed in 1920 and has remained largely unchanged since 1978. This is not about pay cuts, but about pay reforms and pay fairness. We want the brightest and best to think of a police career on a par with the professions of the law and medicine."
Along with the reforms already being implemented under the first part of his review, there would be gross savings of £1.9bn over six years, two-thirds of which will be reinvested in policing, Winsor said.