Police clashed with protesters in St Louis on Thursday for a second night, after an officer killed black teenager Vonderrit Myers Jr. Demonstrators spread out across several city blocks in the south of the city, angrily shouting at rows of police officers, many of whom were clad in riot gear with helmets, body armour and shields.
Some protesters burned the American flag in the south St Louis area of Shaw, while another flag was flown upside-down.
After a quiet candlelight prayer vigil for Myers, hundreds of people joined a more rowdy gathering to protest his death. Police in riot gear lined up on a high street. Protesters yelled abuse and profanities to taunt the officers, who stood their ground. Officers used pepper spray to force the crowd back.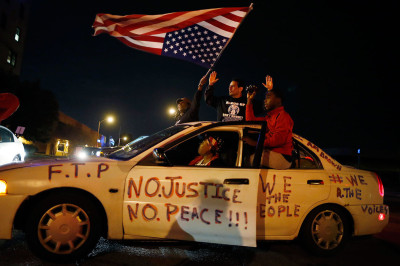 Police said Myers fired multiple times at the officer, before the officer returned 17 shots and fatally wounded him, but Myers' parents say he was unarmed.
Police claim Myers was both armed and aggressive, using a stolen 9mm gun to shoot at the officer. Syreeta Myers said her son was holding a sandwich, not a gun. "Police lie. They lied about Michael Brown, too," she said.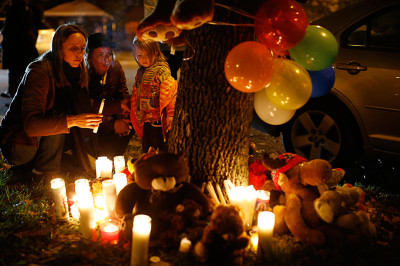 The police department would not identify the 32-year-old officer who shot Myers while he was off duty working for a private security company, but said he was not hurt and has been placed on administrative leave as the shooting is investigated.
The St Louis area is bracing for further unrest over the August killing of unarmed black teenager Michael Brown by a white police officer two months ago, with Myers' killing expected to add fuel to the fire.