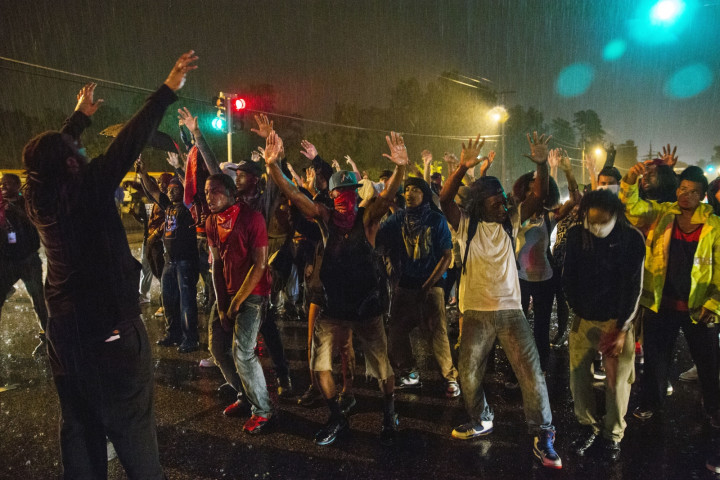 A white off-duty St Louis police officer has shot and killed a black teenager, sparking protests similar to those seen following the death of Michael Brown in Ferguson.
Police said the officer, who was working a second job as a security guard, shot the 18-year-old after he fired at him during a chase involving two other suspects.
The officer fatally wounded the teenager, named locally as Vonderrick Myers, after reportedly firing 17 times. The 32-year-old officer, who was wearing his uniform at the time, was not harmed during the incident.
St Louis Police Colonel Alfred Adkins said: "As [the officer] exited the car, the gentlemen took off running. He was able to follow one of them before he lost him and then found him again as the guy jumped out of some bushes across the street.
"The officer approached, they got into a struggle, they ended up into a gangway, at which time the young man pulled a weapon and shots were fired. The officer returned fire and unfortunately the young man was killed."
There are conflicting accounts about what occurred before Myers was shot. Teyonna Myers, 23, of Florissant, claimed her cousin was unarmed before he was killed.
"He had a sandwich in his hand, and they thought it was a gun," she told the St Louis Post-Dispatch. "It's like Michael Brown all over again."
St Louis Police Department said a gun was recovered from the scene.
Around 200 people took to the streets in St Louis following the shooting. Protesters could be heard chanting "Whose streets? Our streets?" with others punching and kicking police vehicles. Demonstrators also smashed in the back window of one marked police vehicle.
The protest took place just a few miles away from the town of Ferguson, where the shooting of the unarmed black teenager Brown by a white officer sparked several days of unrest.
The officer involved in the shooting of Myers has been placed on administrative leave and an investigation is under way.