The wife of Zimbabwean president, Robert Mugabe, allegedly attacked and injured a model with an extension cord who had been partying with her two sons in a hotel room.
The country's first lady, Grace Mugabe, may face legal action after Gabriella Engels, 20, posted a picture of a wide gash on her forehead on Twitter on Monday (14 August).
The alleged attack was said to have happened the night before in a hotel room in Johannesburg, South Africa, with Grace Mugabe surrounded by bodyguards at the time of the incident.
The 52-year-old first lady also attacked two of Engels' friends, the model claimed, after she had met her sons, Robert Jnr, 25, and Chatunga Bellarmine, 21, at a party.
"What is a girl compared to a women beating you and 10+ body guards standing back leaving her to do this s***," she wrote on Twitter.
"She split my head open in 3 places with an extension cord and used the plug to hit me," she added in another tweet.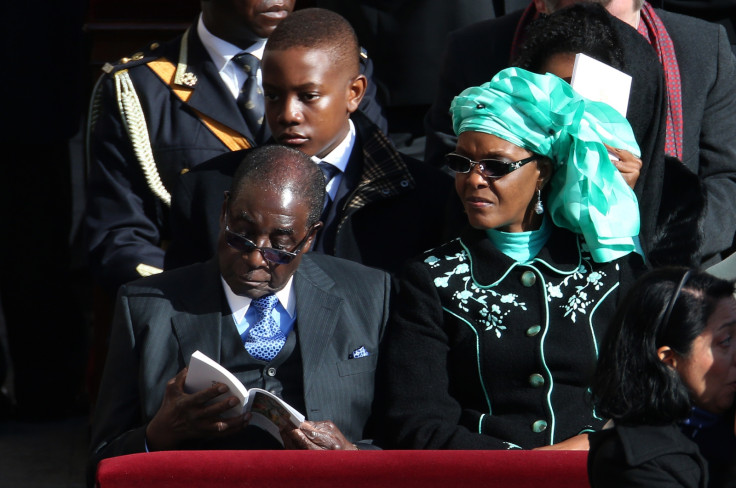 Engels said that the two Mugabe boys, who are reportedly studying in the city and have a reputation for partying, ran away from the incident.
"We were chilling in a hotel room' and they were in the room next door'" Engels said according to The Times Live.
"She came in and started hitting us. The front of my forehead is busted open. I'm a model and I make my money based on my looks'" she said.
A social media account claiming to be Debbie Engels, Gabrielle's mother, has said that the family will be going to police to lay charges of assault against Grace Mugabe.
The Telegraph reported that Mugabe's spokesperson has not released a statement about the alleged assault.
The newspaper also quoted the CEO of the Capital Hotel group​, Garnet Basson, who declined to name anyone involved but confirmed that an "incident" had taken place.
In Zimbabwe a potential successor to the 93-year-old Mugabe has been taken ill and flown to South Africa for emergency medical care.
Vice-president of the ruling Zanu PF party, Emmerson Mnangagwa, had been reportedly struck by food poisoning as politicians prepare for the 2018 presidential campaign.