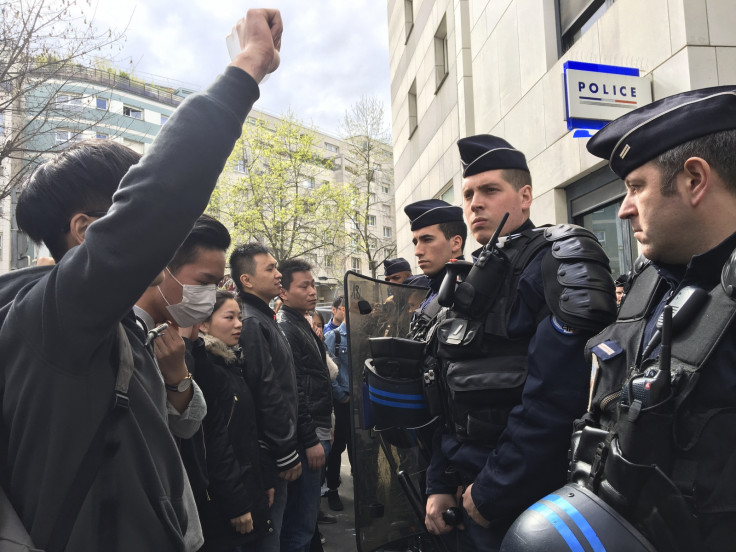 Violent protests have broken out between riot police and furious demonstrators after police allegedly shot dead a Chinese man in front of his children.
Three police officers have been injured and 35 people have been arrested in the clashes which broke out on Sunday night (26 March) after Chinese father-of-five Shaoyo Liu was allegedly shot dead in front of his children at a property in the 19th arrondissement.
Members of the Asian community led a vigil on Monday night (27 March) to pay tribute to Liu. The situation soon escalated as demonstrators broke down barricades, threw projectiles and set fire to a car. The violent demonstration comes just days after thousands of people marched in protest against the alleged police baton rape of a young black man.
Police claim that Liu attacked officers with a bladed object when they entered the building and that a policeman shot him in self-defence.
The family lawyer said they "totally dispute" this account and that Liu "didn't wound anyone." Liu's daughter told reporters that her father was cutting open a fish with a pair of scissors when armed police knocked down the door.
"They smashed the door in, the shot went off and my father ended up on the floor," she told Le Parisien.
French authorities said on Tuesday (28 March) that they had opened an inquiry into Liu's death as well as one reviewing the "attempted murder" of the police officer.
China has condemned the shooting and issued an official complaint to the French embassy in Beijing about the incident. A spokeswoman for the Chinese foreign ministry, Hua Chunying, called on authorities to "get to the bottom of the incident as soon as possible," adding that France must protect the "security and rights" of its citizens. "We hope that our compatriots in France will make their complaints known in a reasonable and legal manner," she said.
On Tuesday morning (28 March) about 100 demonstrators gathered outside a police station and shouted: "Justice must be done, the killer must be punished."