Next week's Nato summit in Newport, Wales, could present the most challenging security operation ever undertaken on British soil. And though it officially starts on Thursday (4 September) the first protests will take place today.
Stop the War Coalition (SWC) have organised a demonstration which will begin at 1pm and is expected to be peaceful, but further protests will take place all week.
Subjects up for debate at the summit will include the Ukraine-Russia crisis, Afghanistan, and the threat posed by Islamic State (formerly Isis).
SWC's Adam Johannes said the aim of the protest was to help shape public debate.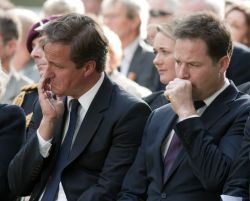 "Some 60 world leaders will be meeting," says Johannes. "They'll be making their voices heard and it's really important that another voice is heard, the voice of millions of people around the world who want peace and justice, who reject the policies put forward by our leaders."
David Cameron, President Obama and Chancellor Merkel are among those heads attending the event in Wales, along with 10,000 support staff and 1,500 representatives of the media.
The event will be guarded by 9,500 police and be contained within 12 miles of security fencing.
Security will be tighter due to the threat from Islamic State, which David Cameron and Nick Clegg will meet to discuss this weekend.
The UK's terror level has been raised from "substantial" to "severe" for the first time in three years. Cameron says Islamic State militants pose an unprecedented risk to the UK, though there is no intelligence to suggest an attack is imminent.
Writing in The Independent Labour leader Ed Miliband said the government should re-think its anti-terror strategy and put forward a series of proposals to counter the threat from Islamist militants.
"Such action must include an overhaul of the Home Office Prevent programme to equip communities with the tools to stop young people being sucked into extremist ideology," wrote Miliband. "We should also do more to prevent potential fighters from travelling to the region, and promote an effective, mandatory programme of deradicalisation for anyone who is drawn into the fringes of extremism in Syria and Iraq."