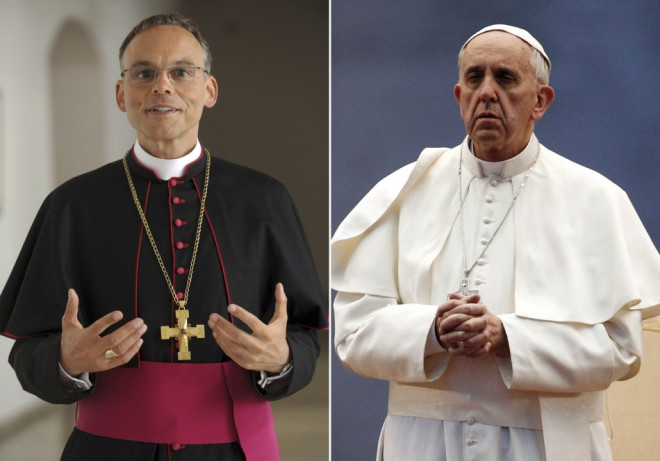 Pope Francis has accepted the resignation of German Bishop Franz-Peter Tebartz-van Elst, dubbed the "Bishop of Bling", over a scandal regarding his €31m (£26m, $40m) project to renew a sumptuous diocesan residence in the western small city of Limburg.
Tebartz-van Elst, whose resignation the Pope has accepted, will be given another assignment in due course according to Vatican sources.
The Vatican said an inquiry found that he could no longer exercise his ministry. The pope reportedly said that he hoped that the faithful of Limburg would accept the decision with "docility and willingness to rediscover a climate of charity and reconciliation".
The 53-year-old bishop, who will be replaced by Monsignor Manfred Grothe, indulged on £30,000 for built-in cupboards and carpentry, £83,000 for the windows of the chapel and more than £371,000 on works of art, using revenue from a religious tax in Germany. He even splurged £12,000 for a bathtub, causing indignation in Germany.
The project was approved by his predecessor for €5.5m but the Tebartz-van Elst's final bill mushroomed to €31m.
German news magazine Der Spiegel headlined with "Pimping the diocese", and even German Chancellor Angela Merkel said that she hoped "that there will be an answer for believers, for people's confidence in their Church".
The bishop is also accused of giving false statement in court about an expensive flight he took to visit India to visit poor communities. That is also the reason why he embarked on a low-cost Ryanair flight to the Vatican last week to make explanations to Pope Francis.
Bishop Tebartz-van Elst has denied any wrongdoing but has apologised for any "carelessness or misjudgement on my part".
Jesuit Pope Francis has made several humble gestures since coming to office. The pontiff has opted for the modest Casa Santa Marta instead of moving into the lavish papal palace in the Vatican. He has called for the Catholic Church to get rid of earthly concerns warning, "worldliness is a murderer because it kills souls, kills people, kills the Church".
He has also accused church leaders of being "narcissists".