Pope Francis in Africa: Pontiff calls for peace and an end to corruption in Kenya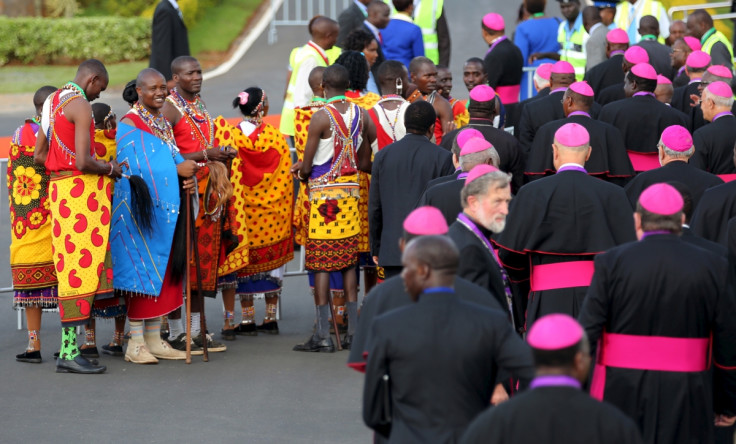 Pope Francis has called for reconciliation and alluded to the issue of corruption in his first speech since landing in Kenya on 25 November.
The country's capital, Nairobi, is the first stop on the Pope's three-nation tour - his first papal visit to Africa.
Many challenges are weighing the country down, including ethnicity, corruption, a bellicose political class and a depressed economic outlook, most of which the Pope referred to in his first speech in the State House, which was hosted by President Uhuru Kenyatta.
Speaking to several thousand people, the Pope called "all men and women of good will (...) to work for reconciliation and peace" in Kenya's "richly diverse society" that "experiences divisions whether (...) religious or economic".
Pope: 'Terrorism feeds on fear, mistrust and despair'
Campaigners called on the Pontiff to address the growing tensions between Christians and Muslims across Africa.
In Kenya, Pope Francis was expected to invoke fallout from the government's counterterror operation on Somalis, less than 10 months after the deadly attack on Kenya's Garissa University College by militant group and Al-Qaeda offshoot, Al-Shabaab, that killed 147 people.
Repeatedly interrupted by applause, Pope Francis continued: "Experience shows that violence, conflict and terrorism feed on fear, mistrust and despair born of poverty and frustration."
Leslie Lefkow, deputy director in the Africa Division at Human Rights Watch (HRW), told IBTimes UK the ongoing discrimination and hostility towards people of Somali ethnicity in Kenya "is a very massive concern hitting both refugees and Kenyan citizens".
The Pope's messages are extremely important for a huge segment of the Kenyan population, the director said. "Emphasizing the need for Kenya's leadership to stand up and reverse some of these worrying trends is important and they and their supporters need to hear and take up," she added.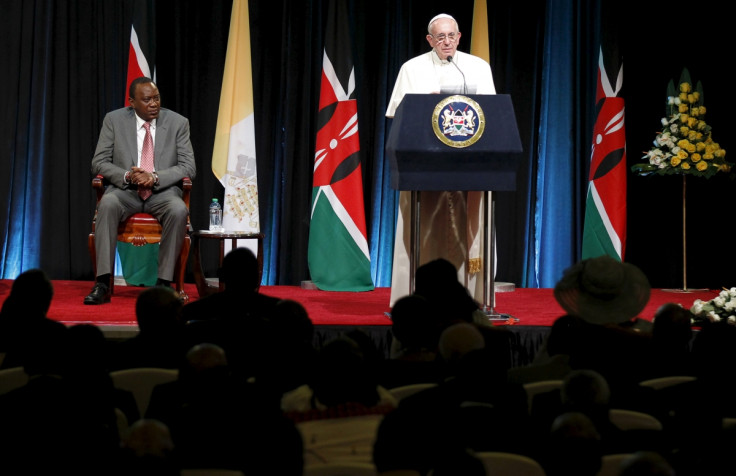 Addressing Kenya's corruption
In introducing the Pope, Kenyatta first referred to the corruption issues plaguing his government, saying that "crookedness sacrifices people and our environment in the pursuit of illegal profit".
Addressing Kenyan political and religious leaders, the Pope highlighted the importance of good governance, asking the audience to "work with integrity and transparency for the common good".
His calls come after five government ministers were fired this week in connection with allegations of corruption, and commentators had said they would like Pope Francis to invoke the issue during his trip.
After driving in from the airport in a basic Honda sedan, the Pope - described as modest - urged top officials to "to work with integrity and transparency for the common good, and to foster a spirit of solidarity at every level of society".
The local Daily Nation commented leaders could learn from the Pontiff's humble style, saying his vehicle was "the type of car ordinarily used by any Kenyan".
© Copyright IBTimes 2023. All rights reserved.