Pope Francis has landed on American soil in his first ever visit to the US. He was met at the Joint Base Andrews, Maryland by President Barack Obama and First Lady Michelle Obama. President Obama's children and Vice President Joe Biden were also present, along with priests and local schoolchildren.
On Wednesday Pope Francis will be officially welcomed by the President on the White House lawn before being driven through Washington in his Popemobile. He has chosen to forgo lunch with lawmakers after speaking to Congress on Thursday and instead dine with local homeless people. The Pope will also host a service at the site of the World Trade Centre attacks, Ground Zero in New York, and address the United Nations before ending his six-day tour in Philadelphia.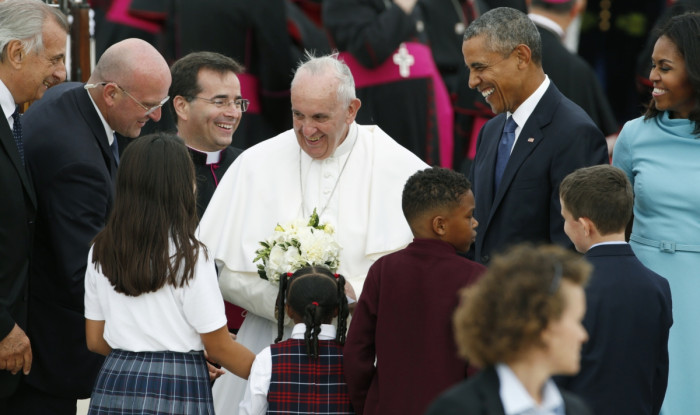 During his visit Pope Francis is thought to be planning to make a number of high-profile public appearances and make his position clear about social inequality. He is expected to refer to the US's support for freedom and democracy but may also speak about his belief that capitalism is increasing inequality around the world. He may also mention climate change, which has already led to one Catholic Republican Congressman, Paul Gosar, to boycott his speech to Congress.
Francis is also expected to raise the subject of immigration, a hot topic in the run-up to the 2016 election. As an Argentine, his views on migration from Latin America are likely to be examined in detail. He may also address the child abuse scandal within the Catholic Church. However the Pope is thought to be unlikely to raise the issue of Cuba, which he visited before arriving in the US.