Pope Francis has held a prayer session to remember all migrants, refugees and victims of exploitation, focusing in particular on the plight of the Rohingya Muslims, a stateless minority suffering persecution in Myanmar.
The pope held a general audience on 8 February to commemorate the "international day of prayer and reflection against human trafficking", an issue Francis has condemned since the start of his papacy as a crime against humanity.
Towards the end of the audience, the pope dedicated his prayer to the Rohingyas. "I would like to pray with you in particular for our Rohingya brothers and sisters, Muslim refugees chased away from Myanmar. They go from one place to the other because they don't want them", he said, as reported by Italian news agency Askanews.
Speaking off the cuff, the pontiff added: "They are good people, peaceful people. They are not Christians, [but] they are our brothers and sisters, and they've been suffering for years. They have been tortured and killed simply because of their traditions and their Muslim faith. We pray for them".
The event, which this year in particular focuses on children, has been held for the past three years on 8 February, Saint Josephine Bakhita's feast day. Saint Josephine was a Sudanese former child slave who entered the religious order of the Canossian Sisters in Italy after she was freed. She is known as the patron of the victims of human trafficking.
In the past week, reports from human rights researchers at the UN and at Human Rights Watch have revealed the scale of the violence suffered by the Rohingya in the Rakhine state in Myanmar.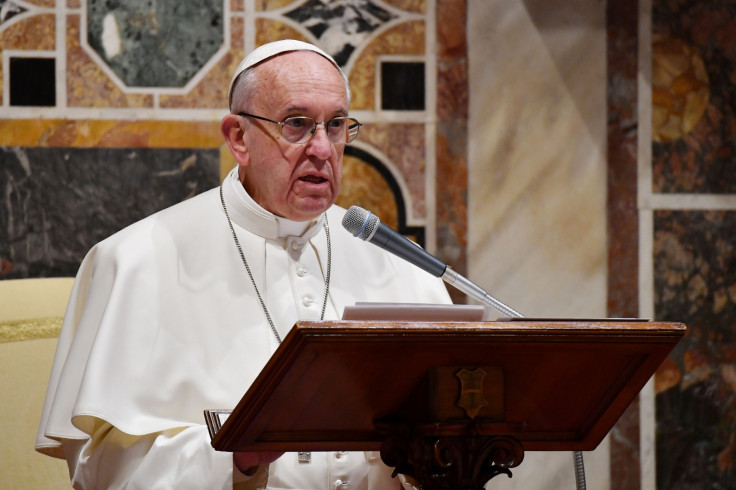 The UN report detailed several human rights violations including mass gang rape, killings of babies and young children and brutal beatings, based on interviews with the victims and survivors.
Human Rights Watch researchers carried out similar interviews and concluded that the Burmese army and border guard police took part in "possibly systematic" rape against Rohingya women and girls. Both organisations called on the Myanmar government to end the violence and investigate the reports of human rights abuses and bring perpetrators to justice.
More than 66,000 Rohingya people have sought refuge in Bangladesh, but the country is now planning to relocate them to a remote island in the Bay of Bengal, which is submerged under several feet of water at high tide, and has no roads.