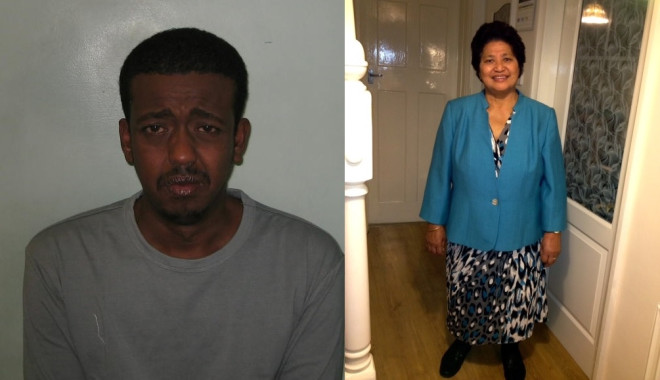 Porn addict Mohammed Yusuf sexually assaulted his disabled mother-in-law Amoe Stevens so violently that she bled to death, a court heard.
Yusuf was found guilty at the Old Bailey on Monday for what was described by police as a "truly horrendous crime".
The 32-year-old locked himself in Stevens's bedroom with the pensioner within moments of his wife leaving the pair alone at their Brent home.
He then subjected 65-year-old Stevens, who after suffering a stroke had serious mobility and speech impairments, to a viscious sexual assault while his sons were in the next room.
Both sons gave evidence during the trial that they heard their grandmother's screams during her ordeal.
The assault only ended when a carer arrived to help Stevens get ready for bed and realised Yusuf frantically trying to clear blood from the scene and the shirt he was wearing.
Stevens was taken by ambulance to St Mary's Hospital in Paddington but died from her injuries within hours.
A post-mortem examination revealed that she had haemorrhaged after suffering multiple internal injuries.
Judge Nicholas Browne QC said he would await submissions on the nature of the killing, adding: "This lady suffered the most agonising death imaginable."
Detective chief inspector, Noel McHugh, who led the investigation from the homicide and major crime command, said: "This was a truly horrendous crime committed against a vulnerable and defenceless woman.
"Mrs Stevens suffered ill health and Yusuf should have offered her care and protection. Instead he chose to use her vulnerabilities to his own sexual benefit and violated her in the most despicable way possible.
"We believe Yusuf had assaulted Mrs Stevens on multiple occasions but due to her disabilities she was never able to communicate with her family and expose his sickening actions. We also believe that Yusuf is sexually deviant and may well have tried to target other women in his past."
Yusuf will be sentenced on Friday.