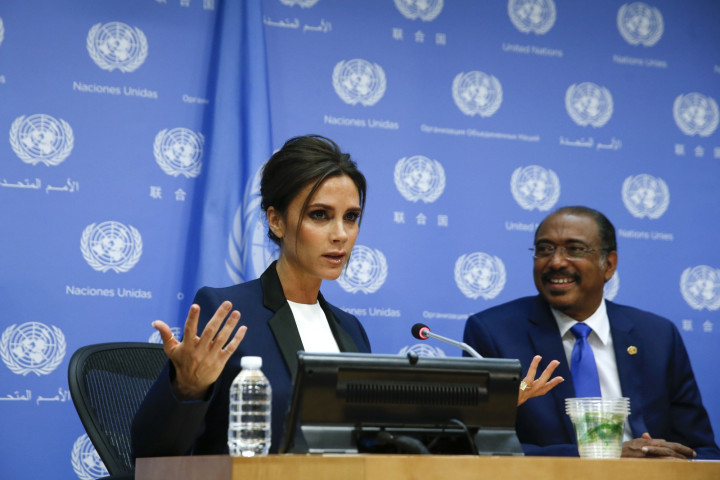 She is a former pop star who has managed to carve out a successful career as a fashion designer and now Victoria Beckham has been named a UN Goodwill ambassador for an Aids charity.
The 40-year-old star, who is married to David Beckham, missed the opening of her new London store to make her political debut at the United Nations press conference held in New York.
Addressing dignitaries and assembled press, the mother-of-four delivered a powerful speech vowing to make a difference to women across the globe.
She also revealed that she was inspired by her life-changing trip to Cape Town, South Africa as part of the Born Free initiative, which tackles the issue of HIV being transmitted from mothers to their children.
"I am mother and I am a woman," the former Spice Girl said. "I will do whatever I can to raise awareness.
"I feel very passionate about this. I recently visited South Africa and was so touched by the women I met and felt inspired. I came home and I knew I had to do something.
"It's taken me to get to 40 to realise I have a responsibility as a woman and as a mother."
Beckham went on to state that she felt privileged to be able to use her celebrity status to lend her voice to a good cause.
"For some reason people will listen to me. This is the beginning of an incredible journey for me.
"I would do anything for my children and I think every woman has the right to health and every woman has the right to give their children a healthy future.
"[Sir] Elton [John] is a very dear friend of mine and David's and we've been patrons of the Elton John Aids Foundation for 20 years so I have been working a lot with lots of Aids charities.
"It's why I realise I have to step forward and do whatever I can do. I want to get to know the women and understand them. It was life changing when I went to South Africa.
Beckham joins the ranks of celebrity humanitarians including Angelina Jolie, Emma Watson and Nicole Kidman who have all been UN Goodwill ambassadors.