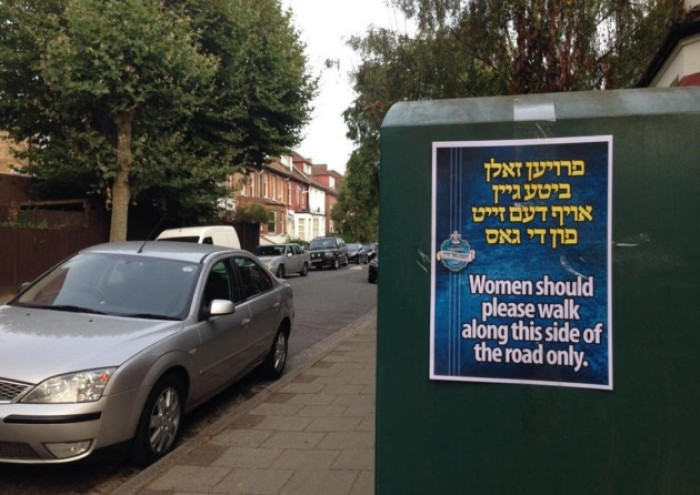 An Orthodox Jewish group has sparked outrage by sticking up posters in the Stamford Hill area of east London borough Hackney telling women which side of the street to walk on.
The posters, worded in both English and Hebrew, proclaimed: "Women should please walk along this side of the road only".
One local wrote on Twitter: This is absolutely absurd. Women can walk where they like in England. We are a free country."
Local councillor for Stamford Hill West Rosemary Sales told The Standard: "Several residents in my ward in Stamford Hill have drawn these posters to my attention. It is of course quite unacceptable to try to restrict women's movements in a public place and council officers removed these posters as soon as it was reported to them."
Some 20,000 Haredi Jews live in Stamford Hill, making it the third largest Haredi community in the world. The Shomrim group, which helps with policing issues in the area, say those responsible belong to a strict Orthodox sect which believes men and women should only ever touch if they are married or related.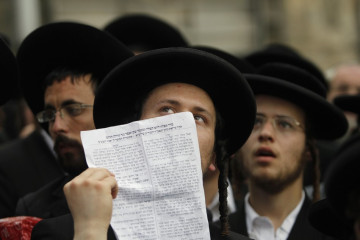 "Shomrim didn't know much about these posters until it was brought to our attention later on," Shomrim's Chaim Hochhauser told the Hackney Gazette, "however, the logo on the side is from a Torah Parade which took place, and the request was intended for the people from the Orthodox Jewish community that were attending the street event."
Shomrim contacted the organisers of the event, explaining why they could be seen as offensive to anyone who didn't understand Hebrew. A number of local people were offended and contacted Hackney council who removed the posters.
Hackney's Safer Neighbourhoods Chief Inspector Andy Walker said the festival organisers had "agreed that next year they [the posters] will only by written in Hebrew and will be removed more swiftly after the event."