Pot of Gold: California Couple Discover $10m in Gold Coins Buried in Garden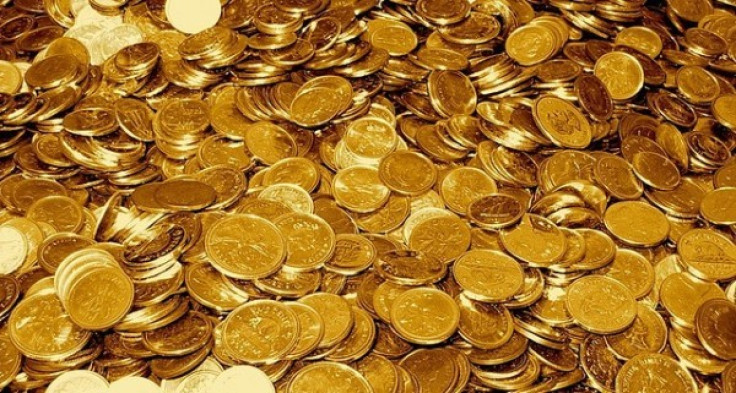 A Californian couple out walking their dog on their property hit the jackpot when they discovered $10m in rare gold coins buried in the ground.
The gold discovery is thought to be the largest of its kind in US history. David Hall, co-founder of the Professional Coin Grading service, authenticated the find.
Hall said: "It's quite a story. People were walking along on their property in Northern California, noticed something, began digging and they found cans of gold coins. It should have happened to you and me."
Dated from 1847 to 1894, the majority of the coins were minted in San Francisco and have a combined face value of $27,000. It is thought they could fetch up to $10 million or more.
The coins were unearthed in February 2013 by the couple, who wish to remain anonymous. They were walking their pet when they spotted something shiny on the ground.
The couple dug out the object and eventually discovered eight metal cans, which contained over 1,400 gold coins. It is unknown how the treasure got there, or who the coins may have previously belonged to.
Hall added: "Somebody could have buried them and then died before they let anybody know where they were.
"Believe it or not, I know cases where they forgot they had something, or they moved or whatever ... It could have been some kind of robbery deal ... Who knows?
The find has been dubbed Saddle Ridge Hoard, after the hill it was discovered near. The exact location of the fortune has not been disclosed.
Don Kagin, a numismatist who is representing the finders, has only revealed the couple have lived on the rural property for several years. According to Kagin, the pair are planning to sell much of the collection.
Around 90% of the coins will be sold on Amazon's "Collectibles" site, while some will be kept as keepsakes. Kagin revealed the family will use the money to pay off bills and donate to local charities.
The couple will also loan some coins to the American Numismatic Association for its National Money Show, which will open this week in Atlanta.
In a statement, Kagin said: "Unlike other hoards and treasures, this one includes a great variety of coins struck over many different years, and many of the coins are still in pristine condition.
"And add to that a wonderful human interest story: this family literally found the pot of gold at the end of the rainbow."
The region in which the hoard was discovered is known as Gold Country, the site of the 1849 Gold Rush. One of the previous largest finds was $1 million worth of gold coins by workers in Jackson, Tennessee in 1985.
© Copyright IBTimes 2023. All rights reserved.