Turkey's President Recep Tayyip Erdogan has sharply criticised Israel at the opening of a summit of Islamic nations in Istanbul, calling it a "terror state".
Erdogan was addressing the 57-member Organisation of Islamic Cooperation on Wednesday (13 December) in the wake of the US decision to recognise Jerusalem as Israel's capital.
President Donald Trump's announcement last week was widely criticised across the world, but hailed by Israel.
The summit is expected to forge a unified position of Arab and Muslim countries and issue a firm retort to Trump's administration.
Erdogan said the US decision on Jerusalem was "null and void" and that the city's status was a "red line" for Muslims who will not accept any aggression on its Islamic sanctuaries.
He said East Jerusalem is the capital of a future Palestinian state and called on states that have not recognised a Palestinian state to do so.
"I invite all the countries that value international law and justice to recognise Jerusalem as the occupied capital of the Palestinian state," he said.
"Those who fight with their friends forget to fight with their enemies. We need a diplomatic solution. We have to stop Israel gaining more land from Palestine day by day. And we must not accept the policies and attitude Israel has been displaying day by day."
He added: "Israel is an occupying state [and] Israel is a terror state."
Turkey's president also said the process to include Palestine in international agreements and institutions "should be sped up".
Palestinian President Mahmoud Abbas also addressed Muslim leaders at Wednesday's summit.
He said the Palestinians will no longer accept any role for the US in the peace process with Israel in light of the Trump administration's decision over Jerusalem. Abbas described Trump's actions as a "crime" that threatens world peace.
He said the international community has been in near-unanimous opposition to the US, calling its Jerusalem decision a "provocation" to Muslim and Christian sentiments and saying measures are now needed to protect the identity of the divided city.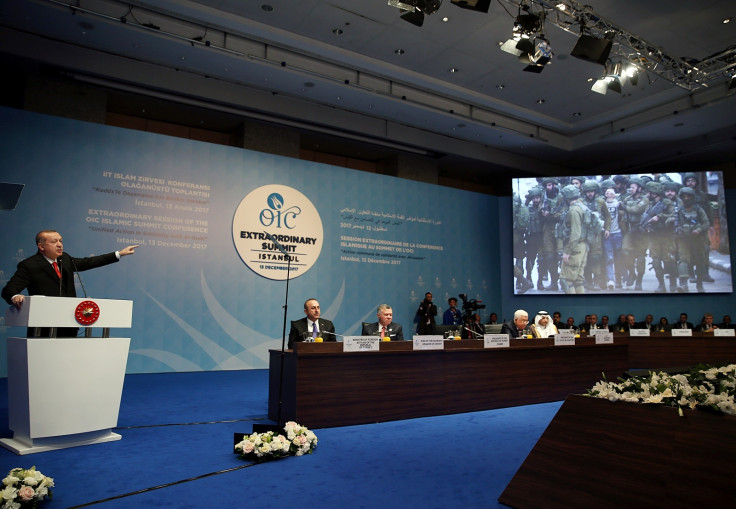 Iran's President Hassan Rouhani, meanwhile, told Muslim leaders the only reason Trump "dared" recognise Jerusalem as the capital of Israel was because some in the region sought to establish ties to Israel.
His comments were seen as an attack on arch-rival Saudi Arabia, which has reportedly sought closer cooperation with Israel to counter Iran's influence in the region.
Trump's announcement was widely perceived as siding with Israel and raised fears of more bloodshed.