President Obama blasts Trump on the campaign trail as Clinton recuperates from pneumonia
The president said the GOP nominee was not 'fit in any way, shape or form' to become president.
President Barack Obama took to the campaign trail on Tuesday (13 September) to lend a helping hand to Democratic nominee Hillary Clinton and take a few stabs at her opponent, Republican nominee Donald Trump.
The president offered his endorsement of Clinton to a Philadelphia rally just two days after she suffered a health scare at a 9/11 memorial service in New York.
"I am really into electing Hillary Clinton," he told the 6,000-strong crowd. "This is not me going through the motions here. I really, really, really want to elect Hillary Clinton."
"You want to debate who's more fit to be our president?" Obama asked the crowd, according to The Hill. "We have one candidate who's travelled to more countries than any secretary of state ever has, has more qualifications than pretty much anyone who has ever run for this job," he added.
Obama added that Clinton's outspoken rival on the other hand "isn't fit in any way, shape or form to represent this country abroad and be its commander in chief."
According to The Hill, the president defended Clinton's stamina in light of questions regarding her health. Clinton was diagnosed on 9 September with pneumonia, though the diagnosis was not made public until 11 September when video footage surfaced of her needing assistance to enter a vehicle after falling ill at a 9/11 memorial ceremony.
The president also lambasted the media for targeting Clinton over transparency issues. "You want to debate transparency?" he asked. "You've got one candidate in this race who's released decades worth of her tax returns. The other candidate is the first in decades who refuses to release any at all."
Clinton's campaign on Monday (12 September) announced it would release further medical records in the coming days after being criticised for withholding information regarding her health. Trump also promised to release more details about his health but did not provide a timeline.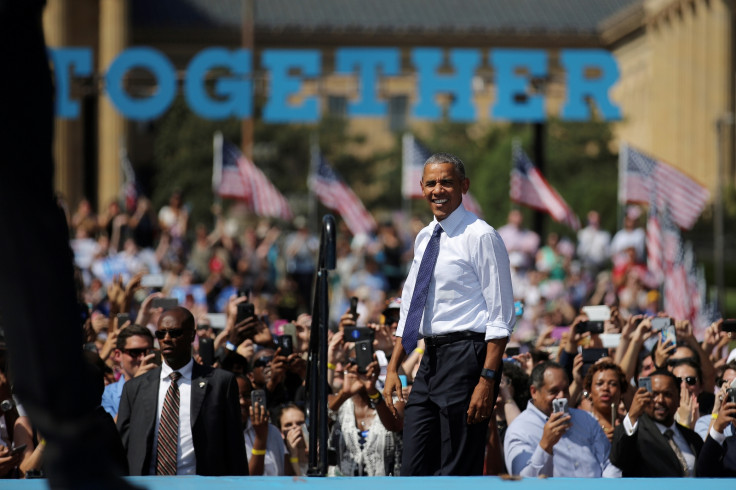 Obama also shared his disapproval for Clinton's rival. "Really, this is the guy you want to be championing working people?" he asked. "This guy, who spent the first 70 years of his life showing no concern for working people?"
He continued: "I mean, he wasn't going to let you on his golf course. He wasn't going to let you buy in his condo. And now suddenly this guy is going to be your champion?"
The president blasted Trump and his party's "dark, pessimistic vision" of the country on the campaign trail and accused the GOP of not "offering serious solutions." He said: "They're just fanning resentment and blame and anger and hate."
According to US News & World Report, Vice President Joe Biden visited a Clinton campaign office in Charlotte, North Carolina on Monday and First Lady Michelle Obama is set to join an organising event in northern Virginia on Friday 16 September. Clinton cancelled a trip to California on Monday to recuperate from pneumonia.
The two nominees are scheduled to participate in the first head-to-head debate on 26 September in Hempstead, New York. A RealClearPolitics national average has Clinton slightly ahead of Trump, 45.8% to 43.4%.
© Copyright IBTimes 2023. All rights reserved.