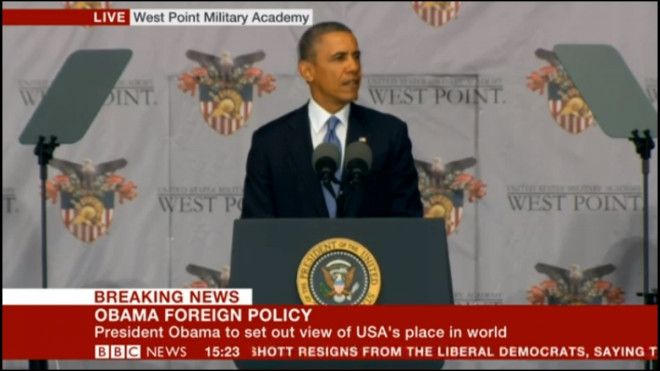 US president Barack Obama has delivered a staunch defence of his foreign policy arguing that America remains the world's most indispensable nation but making the case for restraint in military intervention in global crisis like Syria.
In his commencement address to graduates at the US military academy in West Point, NY, Obama started by paying tribute to the more than 2.5 million Americans who have served in Iraq and Afghanistan.
"You are the first class to graduate since 9/11 that may not be sent into combat in Iraq or Afghanistan," he said.
"We have removed our troops from Iraq. We are winding down our war in Afghanistan. Al Qaida's leadership in the border region between Pakistan and Afghanistan has been decimated, and Osama bin Laden is no more."
Claiming that the US continues to remain "indispensable" for those looking for help in the world; whether it be a typhoon hitting the Philippines or girls kidnapped in Nigeria, Obama said:
"America has rarely been stronger relative to the rest of the world,".
Appealing to the new generations of cadets, Obama said the question to face in the future "is not whether America will lead but how we will lead".
He added that "isolationism is not an option" and America "must always lead on the world stage".
"If we don't, no one else will," Obama argues.
The United States will use military force, even unilaterally, if the American citizens are threatened or the security of the allies is in danger, the US president said. However, with matters of global concern that "do not pose a direct threat to the United States", the threshold for military action must be higher, according to Obama.
"We must broaden our tools to include diplomacy and development; sanctions and isolation; appeals to international law and – if just, necessary, and effective – multilateral military action," he added.
With the terrorism threats, the strategy of invading every country that nurtures terrorists "is naive and unsustainable".
"I believe we must shift our counter-terrorism strategy – drawing on the successes and shortcomings of our experience in Iraq and Afghanistan – to more effectively partner with countries where terrorist networks seek a foothold," Obama claimed.
The effort includes a $5bn fund to help countries fight terrorism and to expand funding for Defence Department intelligence, surveillance, reconnaissance, special operations and other acitvities.
Obama defended his decision to keep the US forces out of the sectarian conflict in Syria. But he said he would try to boost support for those in the Syrian opposition "who offer the best alternative to terrorists and a brutal dictator". He also announced help in neighbouring countries such as Jordan, Lebanon, Turkey and Iraq faced with the challenge of sheltering millions of Syrian refugees.
"In helping those who fight for the right of all Syrians to choose their own future, we also push back against the growing number of extremists who find safe haven in the chaos," Obama said.
"I believe in American exceptionalism with every fiber of my being. But what makes us exceptional is not our ability to flout international norms and the rule of law; it's our willingness to affirm them through our actions," he said.