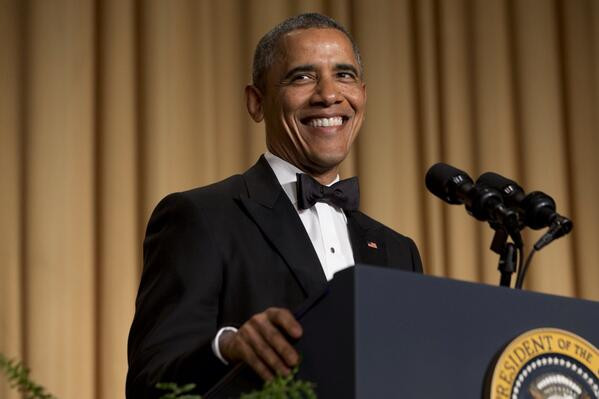 President Barack Obama was at his witty best during the 2014 White House Correspondents' Dinner speech. He made several jokes that had the guests in splits. Here is a roundup of some of his best quips:
#WHCD 2014: "..Koch's bought a table here...But as usual.. used a shadowy right wing org as a front" Hello #Fox_News pic.twitter.com/qZkDdW89rL

— John Jabbo (@jfjabbo) May 5, 2014
In 2008 my slogan was '"Yes we can!" , in 2013 my slogan was "ctrl alt delete". /Barack Obama at the White House Correspondent's Dinner/ — Alina Apine (@aliina_apine) May 4, 2014
Obama said that although he was happy to be at the party, he was still a bit jet-lagged from his recent trip to Malaysia, reports The Huffington Post.
"The lengths we have to go to get CNN coverage these days," he said, slamming the network for its non-stop coverage of the missing Malaysian Airlines flight.
Obama jabs CNN at White House Correspondent's Dinner: "I think they are still searching for their table."

— John Ourand (@Ourand_SBJ) May 4, 2014
Obama joked about MSNBC for its fallen ratings in recent months:
"MSNBC is here," he began. "They're a little overwhelmed. They've never seen an audience this big before."
Obama was hilarious at the Correspondent's dinner. "I'm not the strapping young muslim socialist I once was..." http://t.co/O5KDIlXIzf — Seth Jones (@sethjones1) April 29, 2013
"I have 99 problems and now Jay-Z is one," says President Obama at the Correspondent's Dinner http://t.co/xFGnP9bwL7

— Complex (@ComplexMag) April 28, 2013
However, Fox News was the main target of Obama's jokes. The president took a shot at Fox News for its outrage and criticism of him after his appearance on 'Between Two Ferns' in March.
"To be fair, I am not the first person on television between two potted plants," Obama said, pointing to a photo of "Fox & Friends'" Elisabeth Hasselbeck seated between her co-hosts Steve Doocy and Brian Kilmeade.
Click here to view the full speech.