President Donald Trump applauded anti-fascist protesters following a peaceful counter-rally in Boston staged in protest against a 'free speech' rally staged by right-wing activists on Saturday (19 August).
With reports of up to 30,000 attending the counter rally, there were just 27 arrests as a handful of protesters threw bottles of urine and rocks during minor clashes with police. The march was otherwise described as largely peaceful.
President Trump commended the crowd tweeting: "I want to applaud the many protesters in Boston who are speaking out against bigotry and hate. Our country will soon come together as one!
"Our great country has been divided for decades. Sometimes you need protest in order to heal, & we will heal, & be stronger than ever before!" he continued.
Of the 27 arrests Police Commissioner William Evans said that most were for disorderly conduct. One anti-fascist protester was arrested for assault after he grabbed a confederate flag from an elderly woman sending her falling to the ground. There were also minor scuffles with police as tensions mounted, but the rally was devoid of the violence that marred a similar event a week earlier in Virginia.
City officials had earlier urged counter-protesters to stay away from the rally on Boston common, fearing a repeat of the violent scenes in Charlottesville last weekend. 500 police officers were deployed and streets were closed off to prevent another car attack.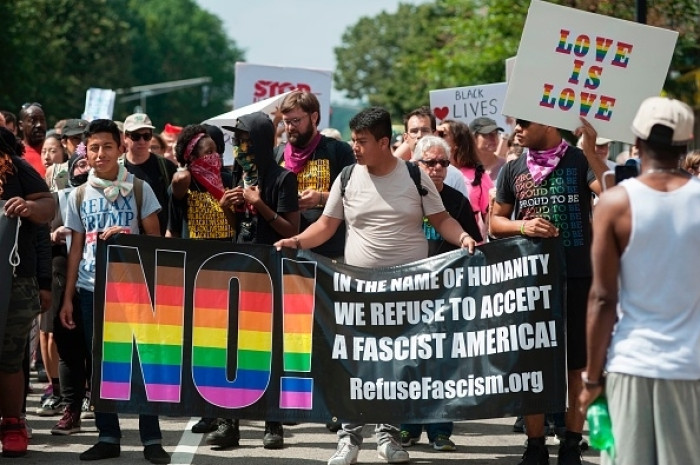 Attending in solidarity with the people of Charlottesville , a group of protesters raised a large banner that read 'SMASH WHITE SUPREMACY' while others wore stickers bearing the face of 32-year-old Heather Heyer, who died when a car was driven into a crowd of counter-protesters at last Saturday's far-right rally.
Today's 'free speech rally' staged by a small right-wing group was attended by half a dozen people who were cordoned off in an enclosed area on Boston common.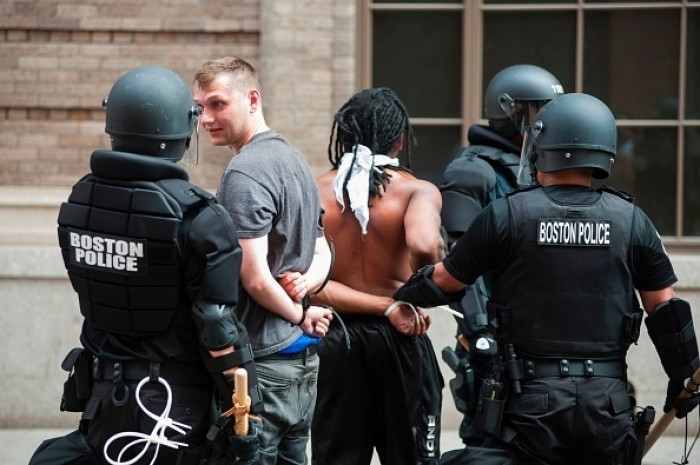 With anti-fascist protesters from activist groups such as Black Lives Matters outnumbering the attendees by 1000 to 1, the right-wing speakers were drowned out by the thousands of people chanting anti-Nazi slogans and carrying placards with slogans such as 'Make Nazis Afraid Again,' 'Love your neighbour,' 'Resist fascism' and 'Hate never made U.S. great.'
Dwarfed by the anti-Nazi protesters, the free speech event was cut short and the planned speakers were escorted out of the park by police.
U.S. President Donald Trump was widely criticised for his failure to condemn alt-right groups at last week's Unite the Right rally in Charlottesville which was staged in protest against the removal of a statue of Confederate General Robert E. Lee. The President stated that violent outbreaks were caused by protesters on 'many sides'.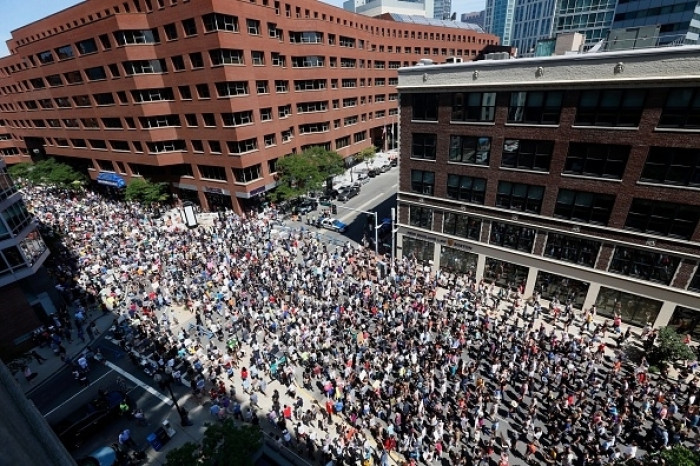 Speaking at a press conference at his private golf club to address the tensions in Charlottesville he said: "We condemn in the strongest possible terms this egregious display of hatred, bigotry and violence on many sides, on many sides. It has been going on for a long time in our country -- not Donald Trump, not Barack Obama. It has been going on for a long, long time. It has no place in America."
Following public outrage at his tempered response he finally made a statement denouncing white supremacists and Nazis.
While President Trump faced a public backlash the entire membership of the President's Committee on the Arts and Humanities resigned in protest at his initial remarks. It was also announced that The President and the First Lady will not attend the annual Kennedy Center honours in December to avoid causing a 'political distraction' after several celebrities threatened to boycott the event Mail Online reports.