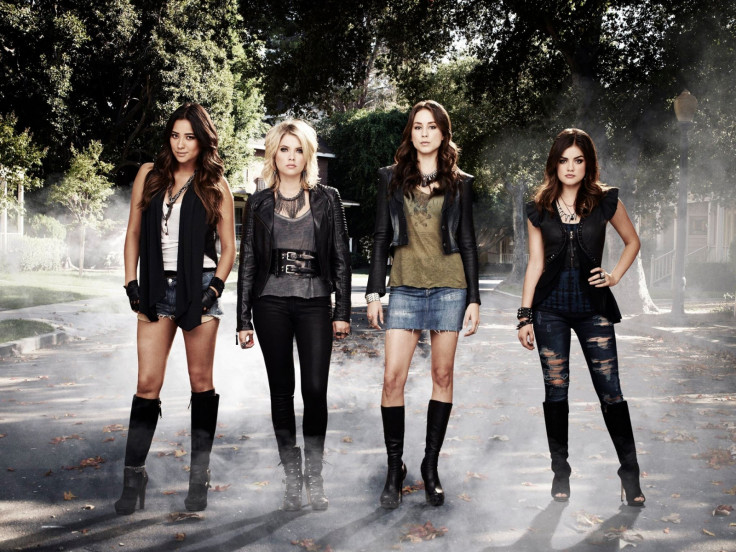 Pretty Little Liars season 5 finale will come as a shock to fans, or at least the synopsis says so. The show has witnessed back-to-back twists and the finale of ABC Family's teen mystery series will reveal who all are in "Team A".
Show creator Marlene King has repeatedly teased that PLL fans will be able to guess the identity of 'A', but the synopsis of the season 5 finale episode now speaks of a team as the hooded villain of Rosewood.
The finale episode is titled Welcome to the Dollhouse, and its synopsis reads:
"A" has always had fun playing with Aria, Emily, Hanna and Spencer, but now "they" have the biggest game to date in store for the girls. As shocking secrets come to light and the biggest clue to the "A" mystery is revealed, is this one plAydate the Liars can survive?
According to the synopsis, the liars including Aria, Spencer, Emily and Hannah will be part of the biggest game 'A' has ever played.
Us Weekly suspects, the group of 'A' may include Alison's mother Jessica DiLaurentis. The website also posted some images of DiLaurentis before she buried her daughter Ali alive in season 4.
"I remember this moment so vividly," Marlene King told Us Weekly. "I had just told Andrea the real story of how she saw hitting Alison."
However, she did not divulged any details when asked about whether Ali's mother can be the serial killer of Rosewood, but said: "As the story continues to unfold, you will learn more about Mrs. D's motives and decide for yourself: victim or villain?"
She also teased the #BigAReveal on her Twitter account.
In my perfect world you figure out who A is before we tell you. And some of you already have.

— I. Marlene King (@imarleneking) March 5, 2015
Some fans think that the hooded villains might be the vengeful duo of Mona and her twin sister, while others think it might be Aria and her brother Mike.
Can you guess who A will turn out to be? Post your views in the comments section below.
Pretty Little Liars season 5, finale will air on 24 March on ABC Family.