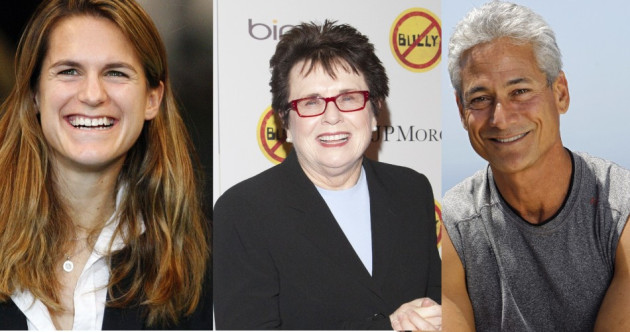 An exhibition celebrating trailblazing gay and lesbian sportspeople is being held in London.
Against the Rules features 37 banners, each telling the story of a prominent homosexual in the sporting world and celebrating their strength in an often unwelcoming atmosphere.
Sporting giants in the display include tennis players Amelie Mauresmo and Billy Jean King and footballer Justin Fashanu.
The exhibition is being presented by the European Gay and Lesbian Sport Federation (EGLSF) at CA House, which overlooks Limehouse Basin Marina in east London.
The presentation is a key part of Pride House, a four-day programme of events running until 7 August, and then again on 12 August.
"The issue of gay and lesbian participation in sport is still a taboo subject that is usually only talked about behind closed doors," said an exhibition spokesman.
"There is hardly a single area of society in which the participation of homosexuals seems as abnormal as in sport. Even though society's attitudes to sexuality have changed, the assumption still remains that sport and homosexuality do not mix. Lesbians and gay men are still largely ignored or openly rejected in sport.
"However, the situation is slowly changing. Various social developments, like the fact that that sport is becoming a leisure activity rather than a form of physical training, the emancipation of women, and the emergence of a gay and lesbian movement, are starting to have an impact on sport, with the result that, even here, homosexuality can no longer be swept completely under the carpet."
Pride House 2012 is a project of Pride Sports UK, in collaboration with EGLSF, the Federation of Gay Games, GLISA International, the LGBT Consortium, and the Pride House Foundation.