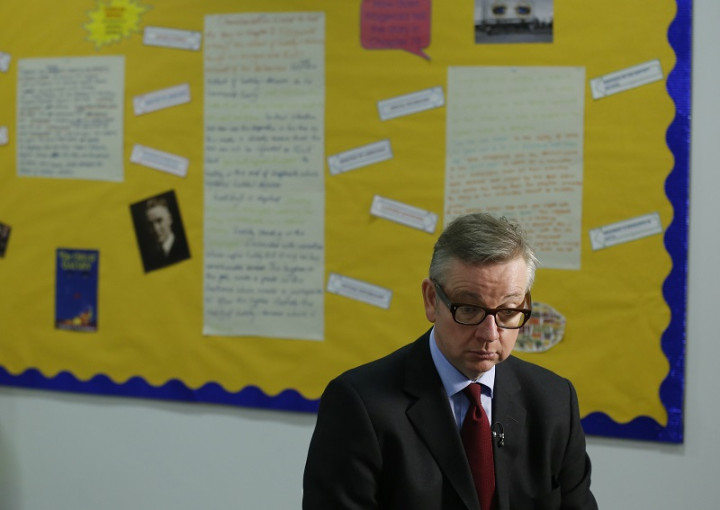 A primary school teacher has attacked Michael Gove in a scathing open letter to the education secretary explaining why she left her job.
Lucy Fey, who worked at a school in inner city Bristol for 14 years, resigned from her role because she believes Gove's change in polices meant she was not teaching children but crunching "numbers and percentages".
Fey said pressure on children to achieve high results on the 'Three Rs' – reading, writing and arithmetic – has meant schools are damaging pupils' self-esteem by "trying to make them all fit into the same box".
She added that some young children "already know that they may not be 'successful' in the future" because they are failing in these areas and this country does not offer a "broad, balanced curriculum" for pupils to excel.
She then asks: " How will all those talented people who are not necessarily 'academic' excel in their different industries if they were not given the opportunity to hone their skills throughout their education?
"How will this improve our country? What sort of adults will they turn in to? I know I never had those pressures when I was a child.
"I handed my notice in last week. I can't do this to them anymore."
The open letter to Gove, published on the Teacher Roar Facebook page, has gone viral on social media.
Responding to the criticism, a Department for Education spokesperson said: "We make no apology for expecting all children to leave primary school with a good standard of reading, writing and maths so that they can thrive at secondary school.
"We are determined to eradicate illiteracy and innumeracy and it is vital we continue to set high aspirations for all schools and pupils. All the evidence shows that if you start behind, you stay behind."
Open Letter in Full