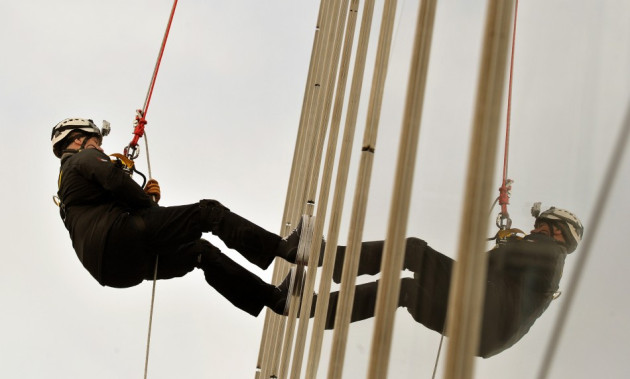 Prince Andrew has abseiled nearly 800ft down the Shard skyscraper in a bid to raise money for charity.
The 52-year-old Duke of York began his descent down the tallest building in Europe from the 87th floor - around 785ft (239 meters) above ground - and finished on the 20th.
The stunt took the prince around 30 minutes to complete.
The prince raised £229,000 for the Outward Bound Trust, of which he is chairman, and the Royal Marines Charitable Trust Fund.
Andrew was one of a group of 40 people taking part in the charity abseil, among them Ffion Hague, the wife of Foreign Secretary William Hague, and leading businessmen and women.
After his abseil, Prince Andrew said: "It was nerve-racking. I think we were in the clouds when we started.
"As I was stepping over the edge, somebody said, 'By the way, there is quite a lot of condensation and the windows are slippery so you may just slide'.
"And he was right - I just slid for the first, whatever it was, 10 or 15 floors.
"But this not about me. It is about the Outward Bound Trust.
"This is what we want to do for young people. We want to change people's lives."
Prince Andrew also added that his training with the Royal Marines had given him the confidence to do the deed.