Lawyers representing a US woman who claims she was forced to have sex with Prince Andrew when she was 17 - illegal in the State of Florida at the time - have written to Buckingham Palace asking the prince to respond to the accusations under oath.
Prince Andrew has repeatedly denied having sex with the woman, known only as Jane Doe No 3, but named elsewhere as Virginia Roberts. She claims she was forced to be a "sex slave" for Andrew's friend, the billionaire financier Jeffrey Epstein, who later went to prison for soliciting sex with an underage girl.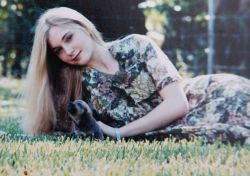 The letter, dated 14th January and filed with a Florida court on Wednesday, states: "This letter is a formal request ... to interview you, under oath, regarding interactions that you had with Jane Doe No 3 beginning in approximately early 2001."
The letter includes a now-notorious photograph of Prince Andrew with his arm around the girl when she was 17. Referring to the photograph the letter goes on: "Among other things, I would like to discuss events that occurred at the time that the photograph below was taken - and shortly thereafter."
The letter asks Prince Andrew to reply by 19th January. However, the lawyers said the letter was refused by the recipient and sent back. The lawyers denied the letter had been timed to coincide with a public appearance at the World Economic Forum at Davos on Thursday evening - his first since the allegations resurfaced. Aides at the palace say Andrew will publicly deny all the allegations in his speech. Although the denial will be brief, it will still set a precedent for a Royal Family member to comment on allegations of a sexual nature.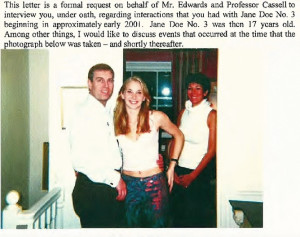 Last week, Andrew's former wife Sarah Ferguson dismissed the allegations as "salacious lies" on American TV. The Palace continues to insist that "the allegations made are false and without any foundation."
However, in her sworn affidavit Roberts says: "I have seen Buckingham Palace's recent 'emphatic' denial that Prince Andrew had sexual contact with me. That denial is false and hurtful to me. I did have sexual contact with him as I have described here – under oath. Given what he knows and has seen, I was hoping that he would simply voluntarily tell the truth about everything."
Related